[GameLook special manuscript, please indicate the source for reprinting]
GameLook reported/Recently, an alternative game that claims to allow "600,000 people to control AI drinking water online and tens of thousands of users to watch" has become popular on Facebook. It is "Rival Peak", which claims to be a "game-like interactive reality show".
According to GameLook, Genvid, which is responsible for the creation of streaming media technology, has also received US$53 million in funding from companies such as Tencent and Samsung.
But what exactly is "Rival Peak"? What is special about the technology behind it?

Interactive reality show of similar games: reality show + interactive live broadcast combination
If you follow the traditional concept, it is difficult to call "Rival Peak" a game, although it is indeed released through Facebook's Instant game platform, and it does provide a certain amount of interactivity. It's just that your main way of experiencing is watching.
The description of it by the R&D team includes "serialized interactive narrative" and "cross-media experience", but in fact, it is difficult to summarize it in a few words.
As a reality show style game, "Rival Peak" unfolds a series of plots through live broadcast of the game all-weather. The guests in the game are not composed of real people, but 12 virtual characters driven by AI. They must work together to solve the puzzles they encounter to survive to the end. During the 12-week program cycle, viewers can participate in interactions through cloud games and live broadcasts to watch, help or block one or more AI characters. Each interaction will give contestants a score, and they will be eliminated every week according to the scoring ranking. People.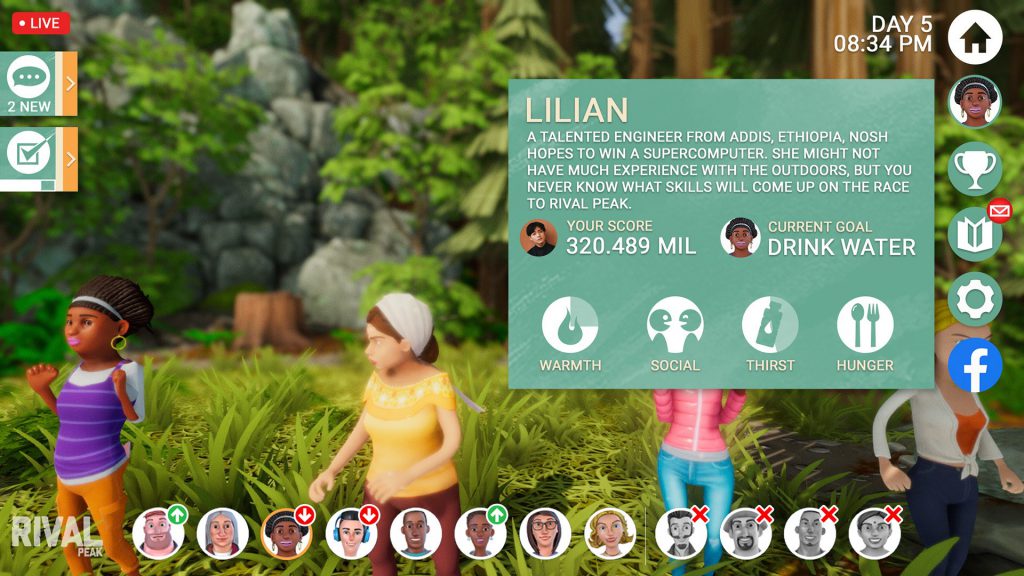 Viewers can vote to influence different activities, from a character's food, water, temperature, to social interaction, to sharing secrets with a competitor, and you can see the character's feedback in real time in the game for every command.
It is worth noting that the development of "Rival Peak" is also different from traditional games. It was jointly created by game developer Pipeworks, streaming media technology expert Genvid, and media company dj2 Entertainment. The latter also added the game IP "Sonic the Hedgehog" last year. "Brought to the big screen.
Hal Milton, Design Director of Pipeworks Studio, once explained, "We have been working on a God-view game that allows interactive live broadcast audiences to become active participants. We pushed it to Genvid, and they have been planning to improve the interactive live broadcast technology. Lucky to find dj2, they really like the reality show story we want to tell".
All the passive and interactive elements of "Rival Peak" form a bigger story: an evil group, mysterious brain scans, government research facilities, Soviet weapons, Native American mysticism, espionage, possession, astral projection, these things are combined Together they add more complexity.
The most important thing is that the core selling point of "Rival Peak" is real-time competition, and it has been perfected by the half-hour summary show Rival Speak held every week, which has been viewed nearly 100 million times.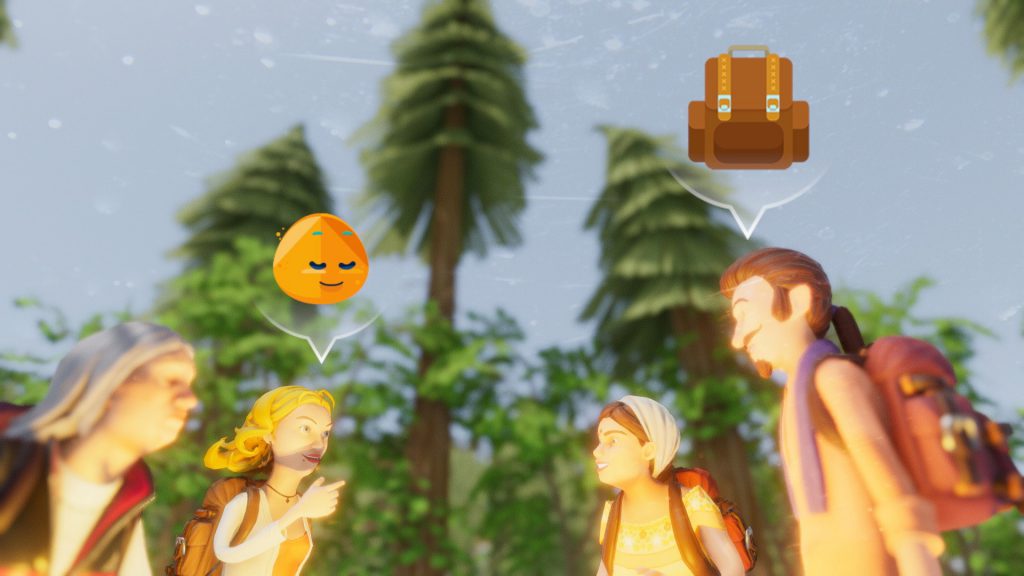 However, more important than the "Rival Peak" viewing experience, the technology and art methods behind the project are the key to attracting traditional gamers.
The technology behind Rival Peak
With the end of the first season of "Rival Peak", Genvid and the developer Pipeworks Studio shared a blog from Genvid co-founder and COO Chris Cataldi (Chris Cataldi), exploring this game and reality show hybrid project Behind the upgrading of the technology, and shared the experience in the process.
The following is the complete blog post compiled by GameLook Chris Qatardi:
As a super-large interactive live broadcast event (MILE for short), during the first season of operation of "Rival Peak" in the past 3 months, not only has it upgraded from a narrative perspective, Genvid's online operation and service team ensured that "Rival Peak" as a whole The experience has improved, and it has expanded significantly as reality TV adventure games continue to unfold. With the continuous adjustment of developers and support teams, in order to meet audience requirements and adjust the game experience, new features, functions, mini games and more are added to "Rival Peak" almost every day.
When "Rival Peak" (and the weekly reality show Rival Speak) was released in early December 2020, we knew it would be a continuous process of continuous learning and rapid adjustment. As the first MILE, when Facebook users around the world discovered the unique experience provided by the show, the real test has just begun. As we begin to see usage data, we have discovered a lot in terms of online games, retention rates, and engagement. Ways to enhance the "Rival Peak" experience.
Through close collaboration with Pipeworks, a senior game development team that created AI, simulation and rendering solutions, we at Genvid identified, designed, built and implemented a series of improvement measures, including UI extensions and embedded summary videos, to the entire live broadcast Pop-up mini games that appear directly. Genvid's growing service department also provides all the back-end technology and online operation experience, and centrally communicates between Pipeworks and Facebook to ensure the correctness and seamless implantation of changes and new content.
Just like the online game experience of "League of Legends" or "World of Warcraft", we update the game based on the weekly "Rival Speak" and add new features based on user and designer feedback. So, as the season progresses, this is more like a real-time collaborative process. Different from the traditional online game experience, these updates are derived from the user's perspective, because the content is completely stored in the cloud, even the largest version update will not cause significant download or installation delays to users, and users never need to wait Download or install, because their local device does not need to store anything.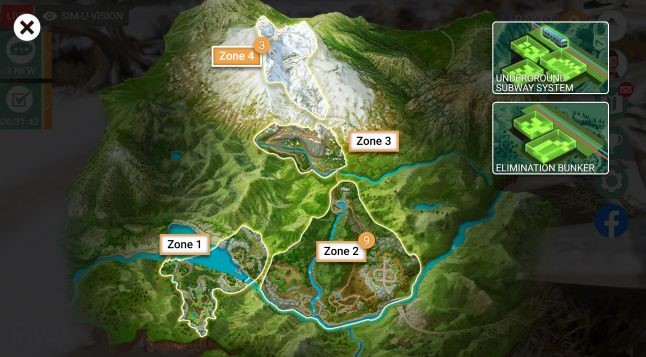 Interactive map provides better visibility of AI participants and faster navigation speed
During the three-month online operation of "Rival Peak", the biggest updates and changes include:
Add Rival Speak VOD to the game (why: because it is a live broadcast, users can not always hear every episode of Rival Speak; how to do it: increase the way to watch the weekly summary show while watching the all-weather interactive live broadcast)
iOS support:(Why: a large number of users request to get the experience on their preferred device; how is the effect: with the mid-season improvement based on viewer needs, 10% of users experience reality shows through iPhone or iPad)
Achievement system:(Why: users ask for more ways to participate in reality shows and plots; how to do: reward users who have achieved multiple milestones and give them more ways of expression)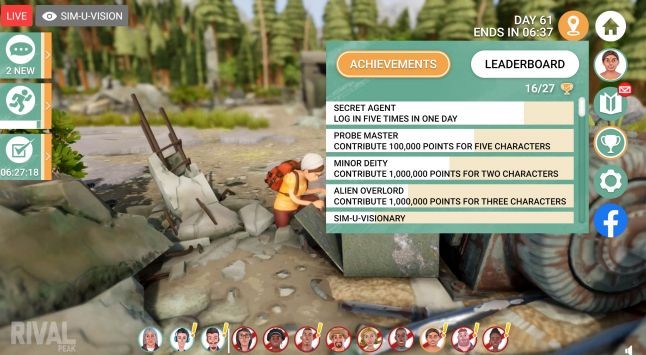 Achievements are based on user feedback and features added in the middle of the season
A lot of UI and UX improvements:(Why: user behavior data shows that people have insufficient understanding of input control and past role interaction; how to do: adjust and supplement the user interface to bring more effective information related to reality shows and programs in the live interface)
Story replay:(Why: As more than a dozen characters are broadcast separately and continuously upgraded story lines, as the plot unfolds, users demand more ways to watch the plot; how to do it: use textual "TL: DR" for the activities and events of the previous day "Summary, provided in the live broadcast through the pop-up window)
Match three and memory games:(Why: when voting to decide which choice or the decision to win, users sometimes have to wait 90 seconds to see the result; how to do: provide more entertainment, resources and opportunities for the live audience before the voting result is announced)

While waiting for the voting result, the mini game gives viewers interesting activities
Interactive map:(Why: With 12 contestants distributed in dense forests, it is difficult for users to quickly measure the location of each contestant, and it is also difficult to know which locations are available; how to do it: The world map popped up by the live broadcast can be changed Navigate quickly, and you can jump to the live broadcast interface of any character directly by location)
contribution:(Why: Players express their desire for more ways to influence reality shows and interact with shows and stories; How to do it: Contribution experience covers the entire game, and allows viewers to contribute a lot of points around the goal of unlocking cutscenes and stories )
Let the anchor be the "boarding concierge"(Recruit a well-known anchor to hold a "watching party" for the interactive live broadcast, decipher clues with other viewers, and collectively support an AI character in a reality show, etc.
It is foreseeable that the biggest challenge in real-time implantation of all important improvements and additional content is the many bugs brought about in the content creation process. To a certain extent, because three different teams (Facebook, Genvid, and Pipeworks) are involved in all aspects of adding new content and features, finding and eliminating these errors is a continuous, joint effort. It can be said that we are "building the spaceship during the flight". Between the integration of Genvid SKD and Facebook SDK, almost all bugs or technical difficulties appear in ways that project personnel have never seen before. For an instant game with embedded, interactive live broadcast and embedded VOD, we have no precedents that we can refer to.
Considering that Facebook has policies on the content provided through its platform, and the content format is different from any previous projects (including on Facebook and other platforms), the coding and QA team worked around the clock in the 12-week season of "Rival Peak" Work in a timely manner to ensure that all changes in the game/live broadcast are brought quickly, stably and seamlessly. Although Genvid's unique SDK has been integrated in more than a dozen traditional games, it is the first time it has been applied to Facebook. Therefore, the insight and expertise of Facebook's engineering team in every aspect is a valuable resource.
Although "Rival Peak" is unique in many aspects, the service team has borrowed from past experience in a broad sense, because the live products supported by Genvid gave us a general understanding of the needs and requirements for maintaining and developing multiple interactive live streams. For example, the CSGO e-sports championship featuring Genvid's enhanced live broadcast technology, each live broadcast is more complicated and more powerful than before, because we have adjusted the product to reflect users' individual competitions in the past 72 hours input of.
This type of dynamic iteration is a well-known "best practice" in the gaming industry. In this process, most Genvid teams have been experienced. Although it is not common outside of game development, applying it to non-game interactive media through "Rival Peak" is a challenge, but it is necessary, and it can attract and "deliver" new users and audiences in Xi'an. More reasons to increase participation can make a big difference.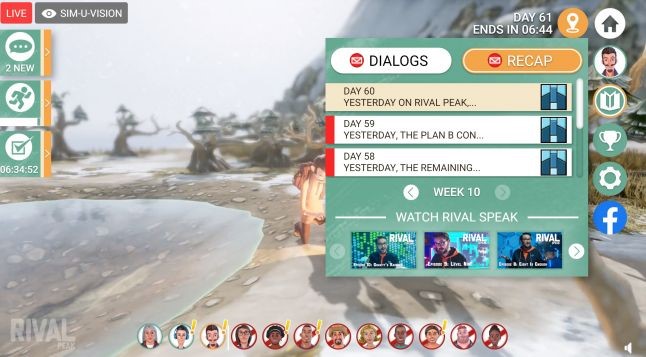 Story replay and VOD allow users to quickly keep up with what they missed
During the "Rival Peak" season, improvements brought about by two-way feedback are reflected in several "frequency", including every minute, every week, and every month (ie short-term, mid-term, and long-term):
short term:The collective and personal input of the audience has affected the story and characters, and has also brought many adjustments and improvements in UI and UX;
Mid-term:The opinions of the audience (including which player was eliminated from the show) are included in the weekly summary show hosted by Wil Wheaton (Wil Wheaton) (the average number of views per episode exceeds 8 million);
long:The input (that is, the request) of the audience drove a variety of improvements, from iOS support to tutorial videos for new viewers, to live broadcast pop-up playback and more.
Game developers and social media platforms have accepted the "Game as a Service (GAAS)" model, and continue to iterate the user experience in terms of content, engagement, and new features. Bringing this ability to cross-media products like "Rival Peak" played a key role in the ultimate success of reality shows. "Rival Peak" brings engagement from a gaming perspective and applies it to the quasi-realistic show experience. Traditional movies and television also want to use these strategies, but they are limited by the nature of linear content and the distribution system. For example, including developers and producers, no one knows the ending of this reality show, because too much content of the story relies on the real-time input of the viewer. Rival Speak is broadcast every Wednesday night, and the production time lasts until noon on Wednesday. The screenwriter, voice actor and Will Wheaton work together to integrate the story and plot development a few hours in advance.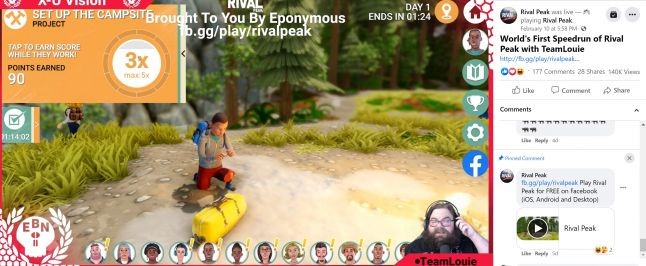 "Concierge" host hosted an interactive live watching party
For the audience and us behind-the-scenes staff, another novelty of the "Rival Peak" experience is the dynamic cycle of yin and yang between Rival Peak and Rival Speak. Unlike other "regular" reality shows, even those with live and online live broadcasts, the uniqueness of "Rival Peak" and Rival Speak is that they can use each other to expand the game into the show, and vice versa . Similarly, although Rival Speak is essentially a weekly summary program, it has become its own resource generator over time. This is why we decided to make the highlights of the summary show VOD and add it as a pop-up content. One of the reasons for the interactive live broadcast.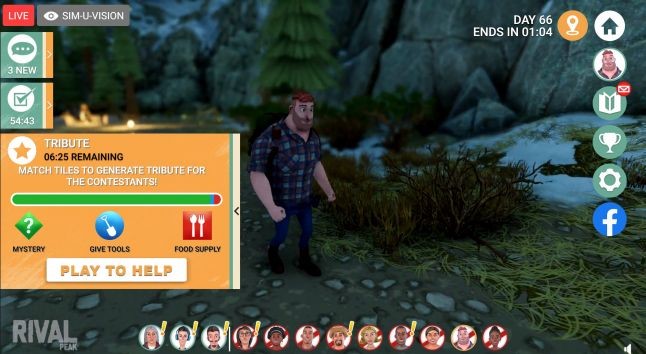 Contribute to more ways for viewers to interact with the content, influence contestants and shape the story
As an all-weather, mobile-first global cross-media experience, we need to remain flexible during the three-month season of "Rival Peak" and Rival Speak, with many teams from multiple companies participating in ad hoc meetings. R&D and QA take place around the clock, all over the world, from India to the Philippines, and from North America to Europe. To be sure, it is a resource-intensive project, but the large number of viewers, as well as the incredible stickiness and participation of these viewers, are enough to prove that our efforts in planning and execution are rewarding. We are already Carrying out a number of similar projects, bringing live broadcast proposals to the game, and bringing game-like emotions to the live broadcast.
This Article is curated from Source and we only provide the English version of the Story.