LEGO has unveiled its tallest Marvel model to date with the upcoming Daily Bugle (76178) set. Measuring over 32 inches high, it consists of 3,772 pieces and comes with 25 minifigures and will be on sale to VIP members from May 26 and to the general public on June 1 for $ 299.99 / £ 274.99; view the promotional images here …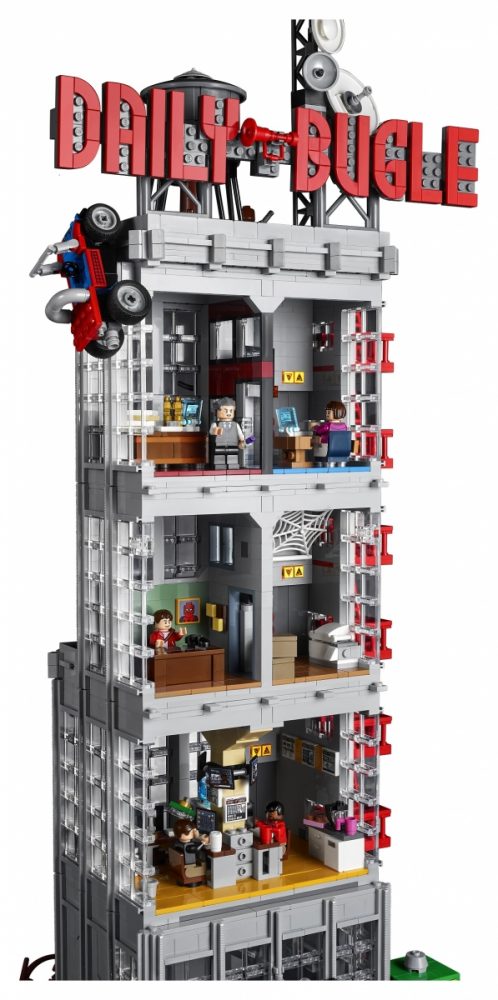 LEGO® Marvel Spider-Man Daily Bugle (76178) brings together a cast of 25 classic Spiderverse characters in an amazing adult building project.
This 3772-piece recreation of the Daily Bugle office building stands 82cm high and provides a sky-high backdrop for a cast of all the stars of Marvel heroes and villains, many of which are new to this set! The building is filled with authentic details, fascinating features and classic comic book action – from the outside New York cab cab to the penthouse office of the Bugle's editor-in-chief. Marvel enthusiasts will find the model challenging but very rewarding to build. Once completed, the removable floors, roof and facades reveal this Marvel tribute for all to admire.
LEGO® Marvel Spider-Man Daily Bugle (76178) is the ultimate build-and-display project for adult Marvel enthusiasts, featuring an all-star cast of Marvel's most celebrated heroes and villains.
25 minifigures bring the set to life: Doctor Octopus, Spider-Man, Venom, Miles Morales, Spider-Ham, Green Goblin, Peter Parker, Spider-Gwen, Mysterio, Sandman, Robbie Robertson and many more!
New in this set are 5 minifigures: Blade the Vampire Hunter, J. Jonah Jameson, the owner of the Daily Bugle, Black Cat, Daredevil and Punisher. Also includes Spider-Man's buggy.
This four-story celebration of the Marvel universe is a rewarding building and display project for adult modellers and fans of comic book culture that will turn heads wherever it is displayed.
Over 82cm high, 27cm wide and 27cm deep, this impressive model is packed with classic characters, realistic features and fun accessories.