[GameLook special manuscript, please indicate the source for reprinting]
GameLook report/Aiyouteng's rival, it seems that there is not only B station.
A few days ago, iQiyi, Youku, and Tencent Video jointly issued a statement accusing the newly launched "Friends Reunion Special" at Bilibili (Station B) for a large number of infringements, seriously infringing the creators and copyrights. The legitimate rights and interests of the parties.
In a blink of an eye, the unstoppable Big Three started grumbling in front of the leaders of the State Administration of Radio, Film and Television at the 9th China Internet Audiovisual Conference yesterday, but this time the target of the siege is not only station B, but also Douyin and Kuaishou. , Directly stretch the front of the long-short video battle.
The giants are torn apart, and of course we, the people who eat melons, applaud. To be honest, after I watched the complete speech of Ayoteng, I also had to feel that I was worthy of being a president-level figure. I was talking swiftly and frequently, and my yin and yang ability was far beyond ordinary. Onmyoji, easily put the topic on Weibo hot search.
So, what did they say?
Youku called Big Brother B, Tencent sprayed short videos as pig food, and iQiyi said Second Creation was a pirated version
It was like this at the beginning.
According to the order of speeches at the conference yesterday afternoon, among the representatives of the five video Internet companies present, Chen Rui, chairman and CEO of station B, took the stage to speak first.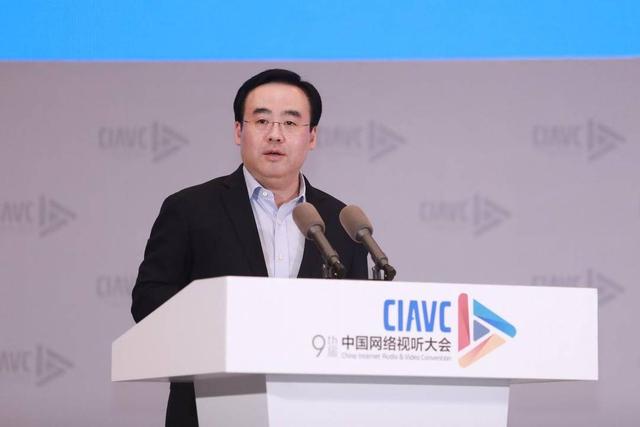 Chen Rui
"This should be the sixth time I stand on the stage of the Internet Audiovisual Conference. Every time I will talk about the interesting content of Station B. So this year, I also intend to show the representative creations and creations of Station B in the past year. Explosive videos." In the subsequent speech, Chen Rui used a series of interesting and vivid cases to introduce the UGC culture of station B to the audience.
According to the order, Fan Luyuan, President of Youku, is the second speaker after Chen Rui to give a speech. However, Fan Luyuan, who had only been involved in an infringement dispute with Station B not long ago, immediately went off after listening to Chen Rui's speech: After some chattering, Fan Luyuan's attitude changed drastically, and he followed Chen Rui's speech just now. , Said the first sentence of the scene, which can be called a classic golden sentence.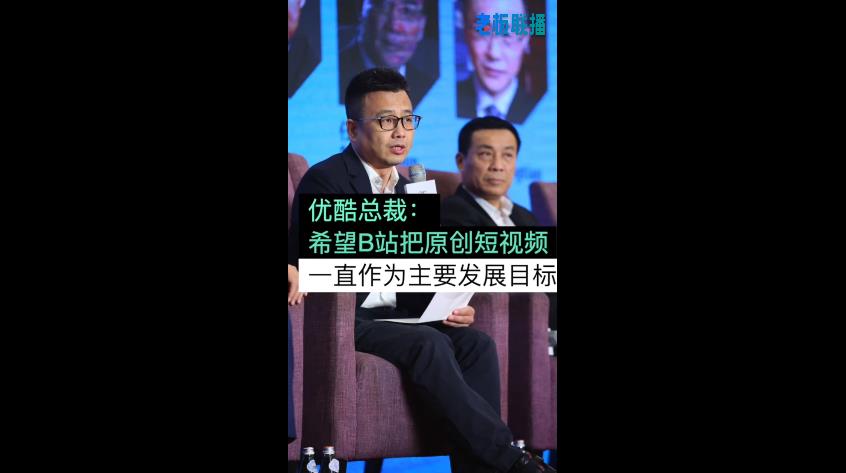 Fan Luyuan
"Just now, Chen Rui said that many authors at station B have created a lot of original short video content. We also like it very much.We hope that station B can always regard original short videos as its main development goal."Fan Luyuan finished speaking, and the scene fell into embarrassment for two seconds, after which there was sparse applause and snickers.
But it is not over yet, Fan Luyuan in his subsequent speeches once again described Youku in the form of self-blaming that Youku used to be "If someone's program is broadcast, it will be offline if it is complained of infringement, but the traffic has been harvested, and offline is useless. Now it's the turn of the short video to treat yourself like this, it may be reincarnation."And also expressed the hope that "the whole society will crack down on infringement like drunk driving," and pointed the finger at short video platforms such as station B.
Not only that, it is said that Fan Luyuan at the top pulled iQiyi and Tencent Video to form a "difficult brothers and hard brothers" combination, and also respected station B as the "big brother" and said, "Three years ago, our brother had more beautiful scenery, but now it's different. The market value of Big Brother B at Station B is Big Brother iQiyi plus Big Brother Tencent (video) plus me and a 30% discount. The influence of the three of us is already very small. Please pay more attention to it in the future."After speaking, there was a burst of laughter at the scene.
Compared with the people at the venue who can only smile to hide their embarrassment, the comments of netizens are more direct and intense. Please judge for yourself who is right and who is wrong.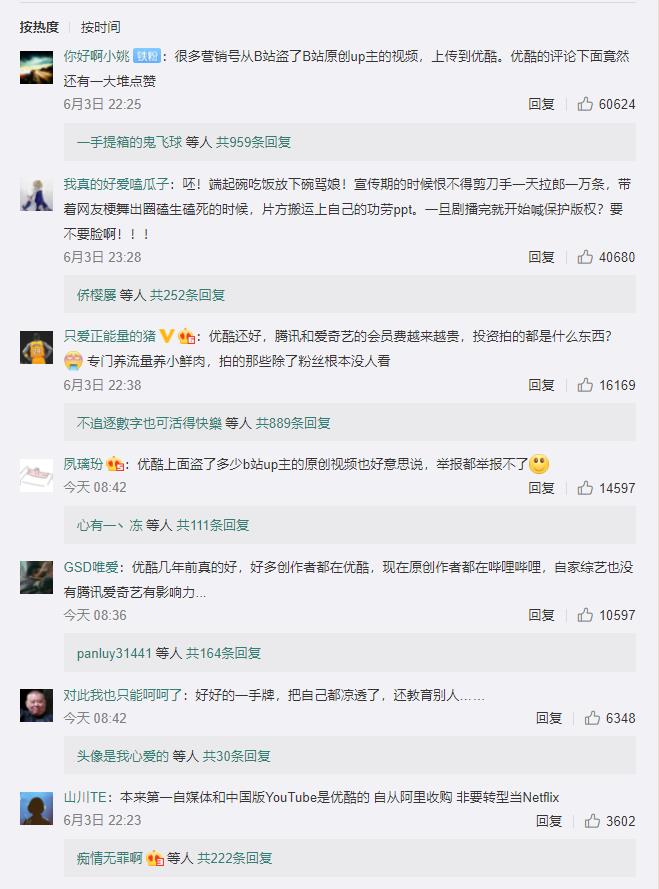 I originally thought that Fan Luyuan's golden sentences were wonderful enough, but I didn't expect that Sun Zhonghuai, the vice president of Tencent, made even more exciting speeches.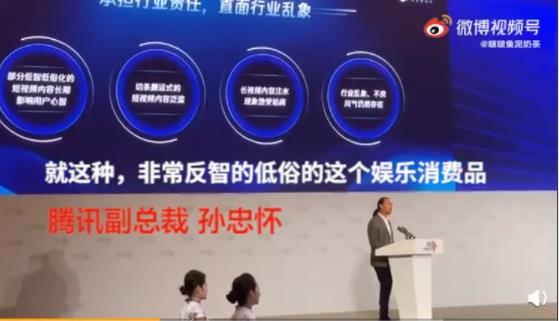 Sun Zhonghuai
"We imagine a scene where (in public places) are surrounded by these people (watching low-quality short videos), and you take off his mobile phone (PS off), what kind of scene is this?! Just like everyone… …"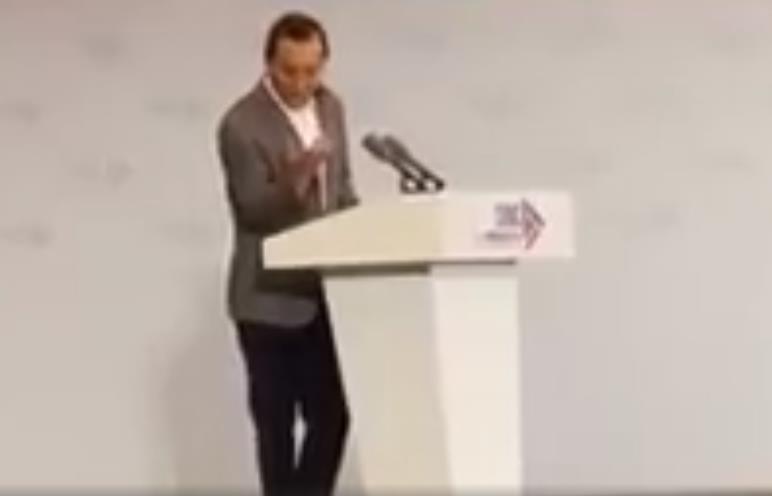 Mr. Sun personally came off to demonstrate the action
Sun Zhonghuai referred to low-quality short videos as "Very anti-intellectual and vulgar entertainment consumer goods"And quickly pulled down the aesthetic taste of a generation. At the same time, he also criticized the impact of personalized distribution, and blurted out the unexpected sentence:"You like pig food, all you see is pig food"。
In the relevant Weibo, most of the first few hot comments agreed with Mr. Sun's words.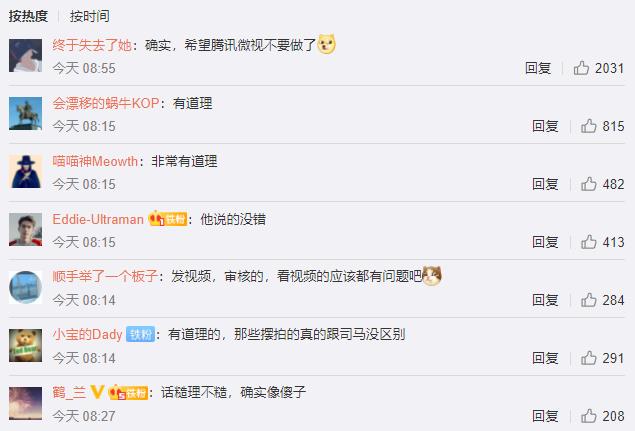 But soon, Li Liang, the vice president of Bytedance, who felt offended, made a public response to Sun Zhonghuai's speech. Contradictory changes in video business attitudes. This response directly brought the topic of #byte response to the vice president of Tencent called the short video low wisdom# on the hot search, which ecstatic the people who eat melons.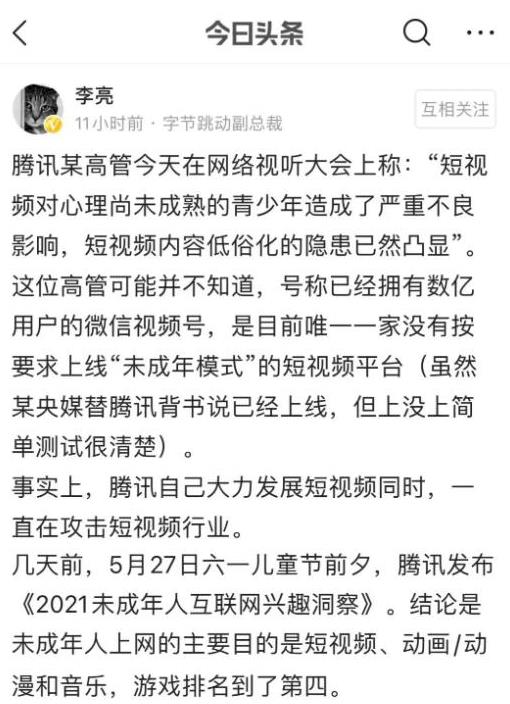 Compared with Youku and Tencent Video's tone towards Maimang, Gong Yu, the founder and CEO of iQiyi, has a much gentler attitude, saying: "The second creation of short video is to use unlicensed things and add your own things to cover up the essence of piracy."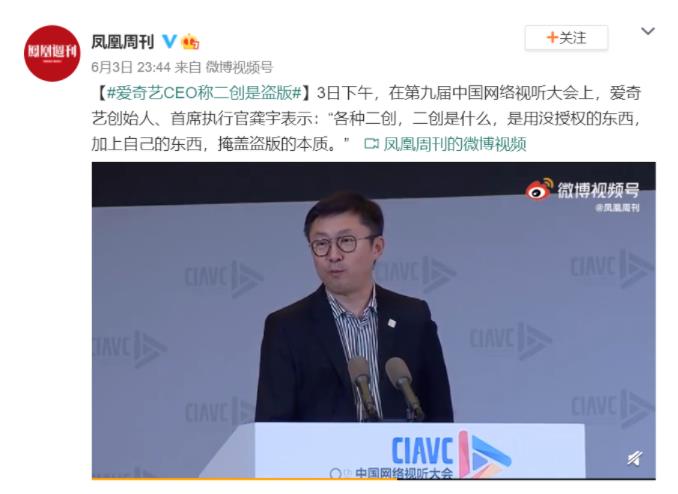 Gong Yu
To further explain, he also cited an example: "It's painful. The value of a 90-minute football game is concentrated in that one minute. If the entire net is full of videos of football shots, who would buy a 90-minute football game?"
But it seems that the focus of netizens is not on short videos.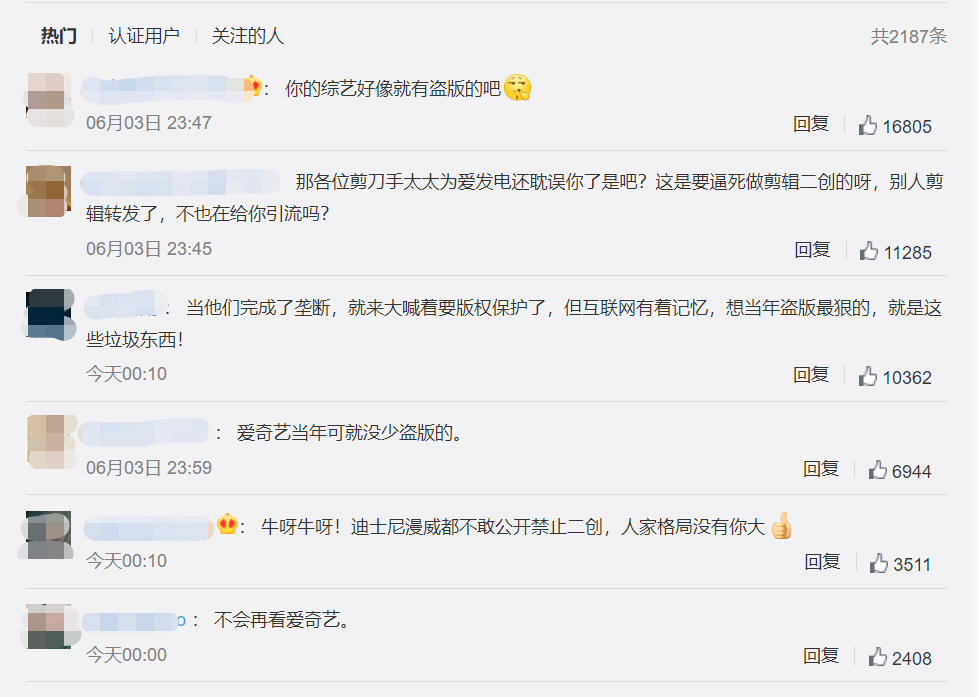 After you sang the three Aiyouten and I came on stage, the last speaker, Kuaishou co-founder Yang Yuanxi, seemed very embarrassed. On the one hand, Kuaishou itself focuses on short video business and is a direct competitor of the three Aiyouten. On the one hand, the market value of Kuaishou is also very high, with the reputation of being the first stock of short videos, so it is more or less connoted by the Big Three.
So after taking the stage, Yang Yuanxi hurriedly said in order to alleviate the embarrassment: "Everyone has a misunderstanding about the short video industry."On the other hand, Chen Rui may have already realized that Aiyou Teng is coming this time, and after listening to Yang Yuanxi's speech, he quietly left the scene.
Iyo Teng choked in public, what is the picture? What are you stuck with?
In fact, it's almost hard to imagine that Aiyouten, who won you a life and death ten years ago, will now unite to beat the short video company. Of course, this is not the first time the Big Three have joined forces to "encircle and suppress" short videos.
As early as April 24, mainstream long-video platforms such as iQiyi, Youku, and Tencent Video joined forces with more than 500 artists and more than 70 film and television media units to voice their voices, targeting online short-video infringements. It was also mentioned at the beginning of the article that a few days ago the three companies joined forces to sue their own "Friends Reunion Special" for infringement.
From this series of actions, it can be speculated that the three Aiyouteng companies once again made a collective voice at the 9th China Internet Audiovisual Conference, which is the largest and highest specification in China's online audiovisual industry, and is known as the industry's annual "weathervane". There may be more It is to increase the volume of the market, at least to regain a little public opinion initiative in the video industry under the current market structure of short videos all over the world.
As far as the three best-developed short and medium video businesses are concerned-Douyin, Kuaishou, and Station B, TikTok has completed its global rule in the short video field, with more than 600 million in China alone. DAU, advertising revenue far surpasses the long video giants Aiyouten, which rely on the subscription payment model for profit.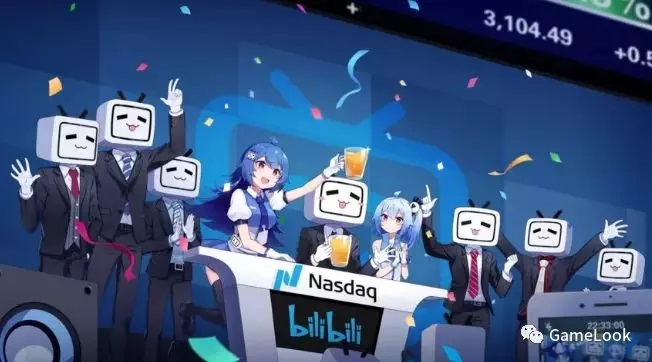 In fact, just like Douyin, Kuaishou and Station B also rely on advertising revenue as their main revenue method, and both have achieved good results. The market value has increased even more. The market value of Station B is as high as 316.9 billion Hong Kong dollars (about 261.8 billion yuan). Although the annual financial report always shows losses, the market is very optimistic about its future performance and profit model. This is also his determination to become a "Chinese YouTube".
But the trade-off is that there are only so many users, and users can only maintain one viewing habit. Therefore, the rise of short video companies has squeezed the development of long video companies to a certain extent, especially the leading companies represented by Ayuteng.
Everyone knows that Aiyouteng is striving to become "China Netflix", but Netflix's model is to invest a lot of money to make IP and shoot high-quality self-produced dramas, and this cost is not a big one. In this regard, iQiyi has tried.
The financial report shows that in 2020, iQiyi's operating costs will be 27.9 billion yuan, accounting for 93.94% of operating income. Such high operating costs are mainly derived from the investment in self-made dramas, such as "Tomb Notes" with a single episode of more than 5 million yuan, and "Ruyi's Royal Love in the Palace" with a total cost of more than 300 million yuan, but the membership subscription price is low , And the payment rate is not high, many people have gone to watch infringing short videos, it is actually more difficult to achieve profitability.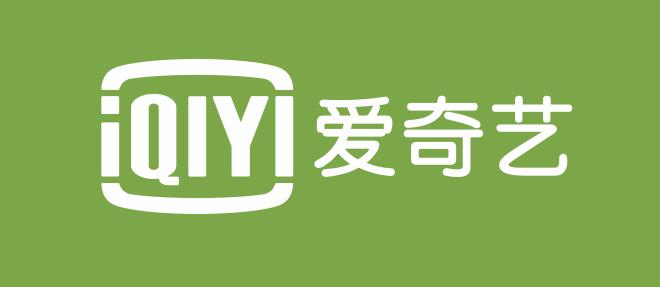 IQiyi is just a microcosm of the Big Three, which is also an important reason why iQiyi opposes short videos so much. More than half of the video business cake has been cut off by friends. For a long time, it will be nothing but empty talk to become China Netflix.
As previously said, the vision of station B is to become "China YouTube". At present, station B has formed a stable video content creation ecology with "PGC+UGC". Based on this premise, is it useful if Aiyouten really breaks away from verbal warnings and takes up legal weapons to properly defend its rights?
In GameLook's view, the effect may be really small. Even if the short video platform has many second-creation video infringements, when the traffic has been harvested, it will not help to file a legal complaint. Only one offline one can be established. And even if the infringing behavior can be blocked before the traffic is generated, even if the infringing content is completely invisible in the short video, in fact, it will not have much impact.
Because there is only one YouTube, and only one B station and Douyin, even if there is no infringing content, users will not switch to other platforms of the same type, nor can they jump to other platforms of the same type.
Who is who depends on verbal disputes, and does not have much effect, and reasonable content supervision is the most effective medicine. Who is right and who is wrong, perhaps as the People's Daily commented, the change in the pattern of interests is the main cause of the conflict between the two sides. The inequality of distribution has already expanded. From this point of view, the dispute between long and short videos may continue to intensify in the future.
This Article is curated from Source and we only provide the English version of the Story.