Game company Activision has a recent update on video game Call of Duty: Black Ops Cold War Season Four Reloaded.
After the trailer was revealed last time, new updates poured out. The upcoming new season four will launch on July 15, 2021. It will feature a new Zombies experience, a new multiplayer map, and new modes. Warzone has a new target mode with Payload and some meta-changing updates.
There's a new round-based Zombies map called Mauer Der Toten, a classic round-based Zombies experience where Requiem agents must explore war-torn Berlin after a zombie invasion that has overtaken the city.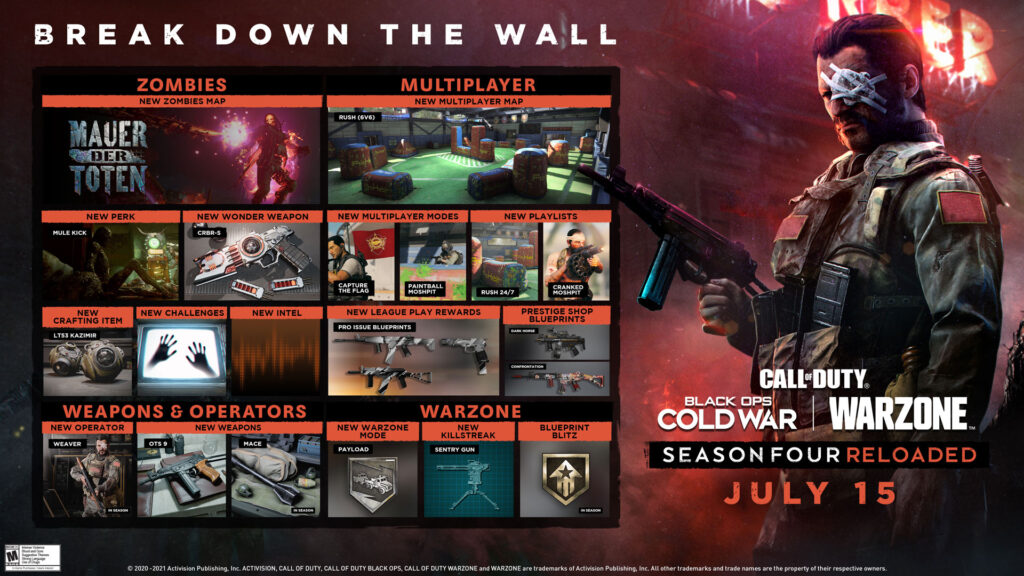 The Mule Kick Perk-a-Cola returns in this new map and will be stored in Der Wunderfizz machines on the other round-based maps and breakout. The Mule Kick perk allows agents to carry three weapons instead of two.
There is a new crafting item and a Wonder Weapon to try out, the LT53 Kazimir Grenade and the CRBR-S respectively. The prior will suck up any undead creatures when detonated, while the other starts out as an energy-based pistol with an orbiting repeater that fires an extra shot when fired. Upgrade it to three additional versions to turn it into a whole new different weapon.
There are also new progress challenges to complete. Completing them will give you several Calling Cards and bonus XP. Completing them all unlocks an animated calling card and even more XP.
PlayStation players can check out the new Onslaught map where they fight the undead and collect Intel as part of Season Four Reloaded. They can also check out the limited time mode and a legendary LMG weapon blueprint, the Chemtaminate.
There is free multiplayer content to check out, such as Black Ops II's new map Rush. There are also new modes such as Capture the Flag and Paintball Moshpit. New playlists to try out like Rush 24/7 and Cranked Moshpit.
Two new free weapons to try out, such as the OTs 9: SMG and the Mace: Melee. Both are for operators up close. A new operator has arrived, Weaver: NATO.
The Special Ops: Pro Pack is also unveiled, a bundle of six items that can be purchased for $19.99 USD. It includes the legendary new skin for Portnova and two legendary weapon blueprints for FARA 83 and the AK-74u with a business card and decal.
New bundles have been announced, such as the Tracer Pack: Firestorm Maxis Mastercraft, Tracer Pack: Mothership Mastercraft and Magma Fury.
These are the Black Ops Cold War and Warzone update formats:
Black Ops Cold War Update Sizes
PlayStation 5: 17.9GB
PlayStation 4: 14.5 GB
Xbox Series X / Xbox Series S: 21.3 GB
Xbox One: 11.4GB
PC: 13.0 GB (without HD Pack) / 21.2 GB (with HD Pack)
Note: PC users will also need an additional 63.2-111.5 GB of space on their hard drive for the copy process; this is only temporary space reclaimed upon completion of the patch installation and is not an additional download.
Read more about the copying process here.
Warzone update size
PlayStation 5: 8.9GB
PlayStation 4: 8.9GB
Xbox Series X / Xbox Series S: 9.2 GB
Xbox One: 9.2 GB
PC: 9.2 GB (Warzone only) / 10.4 GB (Warzone and Modern Warfare)
Source: Official website
Check all Gaming News here: Gaming Ideology