[GameLookspecialmanuscriptnoreprintwithoutauthorization!】
GameLook reports/Recently, the Metaverse, which is called the "Future of the Internet" in the industry, has become increasingly difficult to understand. With the trillion-dollar scale of multi-universe interconnection that breaks the boundaries of reality and virtuality, as people's brains get bigger and bigger, Metaverse is becoming more and more "cyberpunk" in people's minds.
However, for most small and medium-sized teams, instead of thinking about the unreachable "Number One Player", "Time and Space Player", or the "digital immortality" virtual world, and the super large game platform such as "Roblox", it is better to find It is a good direction for projects within one's ability to catch up with Metaverse, such as the popular decoration gameplay in the industry.
Decoration design, picture from Pixabay
On September 2, Beijing time, Israeli mobile game company Playtika announced the acquisition of Finnish developer Reworks for US$400 million in cash. The latter's main product is the decoration mobile game "Redecor". According to GameLook, this time Playtika only purchased 80% of Reworks Studios' shares, and will acquire the remaining 20% ​​of the shares with up to $200 million in additional funds based on its performance in 2022.
In other words, according to the purchase price of the remaining shares, by 2022, the valuation of Reworks will reach 1 billion US dollars.
How big is the potential of the decoration mobile game?Another $1 billion unicorn
When it comes to decoration mobile games, readers of GameLook may not be unfamiliar. As early as 2017, we noticed that the decoration mobile game "Design Home" under the American mobile game company Glu had an annual revenue of more than 71.5 million US dollars. This game can be said to be the "least game-like game product" at the time. .
Just last year, "Project Makeover" released by Magic Tavern incorporated elements of dress-up, plot, and decoration on the basis of match-3 gameplay. It successfully achieved a monthly turnover of US$26 million and became a "curve overtaking" sea-going explosion.
In terms of core gameplay, "Redecor" and Glu's best-selling products belong to the same track, and there are many similarities between the two. According to Roblox's definition of Metaverse products, "Redecor" with its own UGC function gameplay "Isn't it a "low version Metaverse"? If you add the player's personalized character image and socialize, it will basically complete the so-called Metaverse function.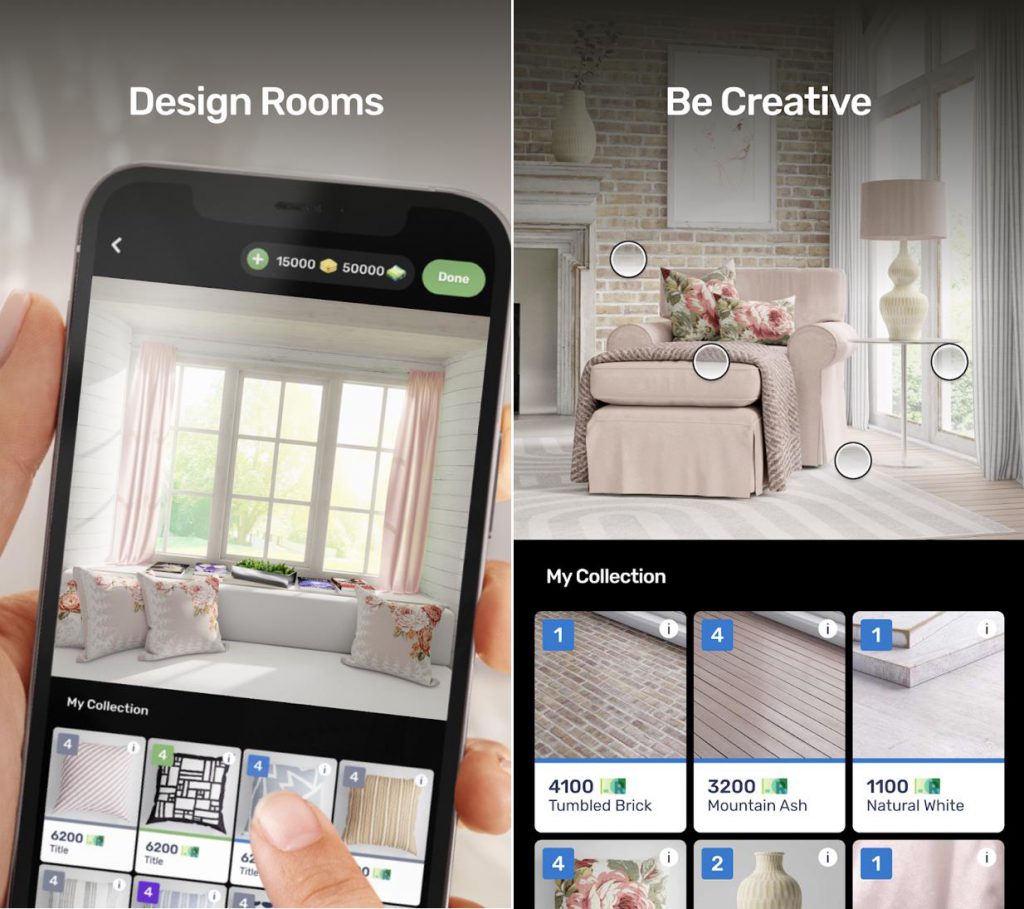 Screenshot of "Redecor" game
In this game, you can decorate the room according to your own preferences and improve your skills through a unique design style. You can also draw inspiration from the works of other people in the community and use it in your own decoration process.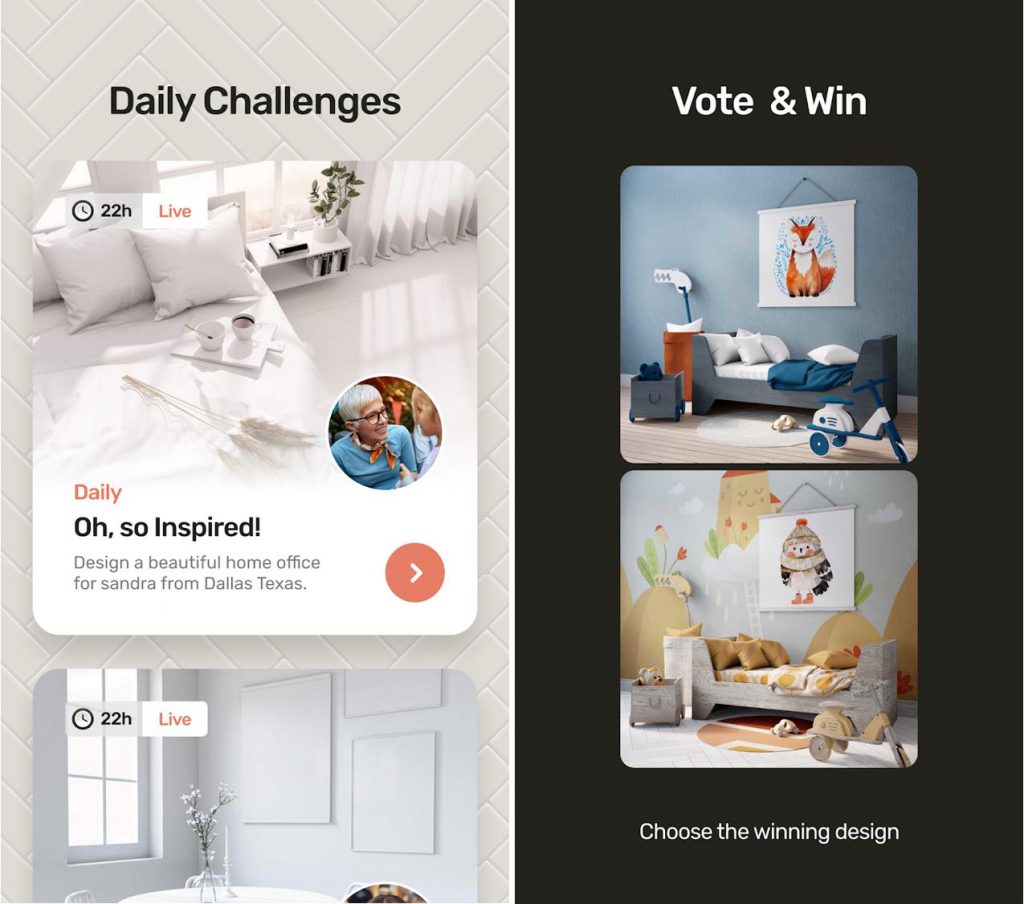 Daily challenge tasks and voting functions in the game "Redecor"
In addition to simple basic gameplay, "Redecor" also designed daily task challenges for the game. Players can participate in designing and uploading their own works. The community will vote to determine the best design plan. Winners can receive rewards such as game coins and props. At present, there are 4 daily challenge tasks in the game every day, and they need to be completed within a limited time.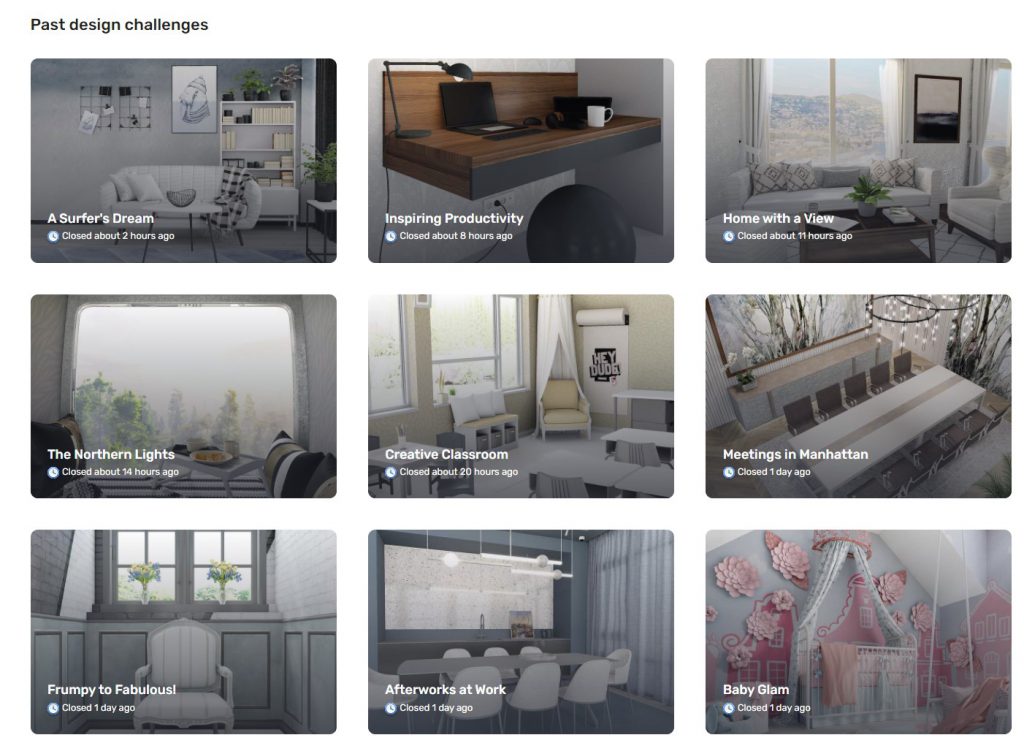 "Redecor" official website will also announce the results of daily design challenges
As a game product, whether it is "Redecor" or "Design Home", it actually broke people's imagination of traditional gameplay. According to GameLook, many people in these games do not define themselves as "players". Many people are even professionals who have a background in design. Many people choose to enter the game for real-life decoration in order to learn the differences. The decoration style, enhance the decoration skills in reality.
The former CEO of Glu, Nick Earl, said in an interview in 2018 that the acquisition of "Design Home" R&D team Crowdstar spent US$45.5 million. Although it accounted for a considerable cash flow of the company at the time, the acquisition was very cost-effective. The game's revenue in more than one year has exceeded 200 million US dollars, and the return on investment has exceeded 400%.
Based on the current 80% acquisition price, Reworks is valued at US$750 million, and if the remaining shares are valued at US$200 million, it means that the studio's valuation in 2022 will reach US$1 billion, and there will be one more in the field of decoration games. unicorn".Based on the previous valuation that Rovio acquired the casual game company Ruby Games at a price of 10 times its net profit, Reworks is expected to achieve an annual profit of 100 million US dollars in 2022.。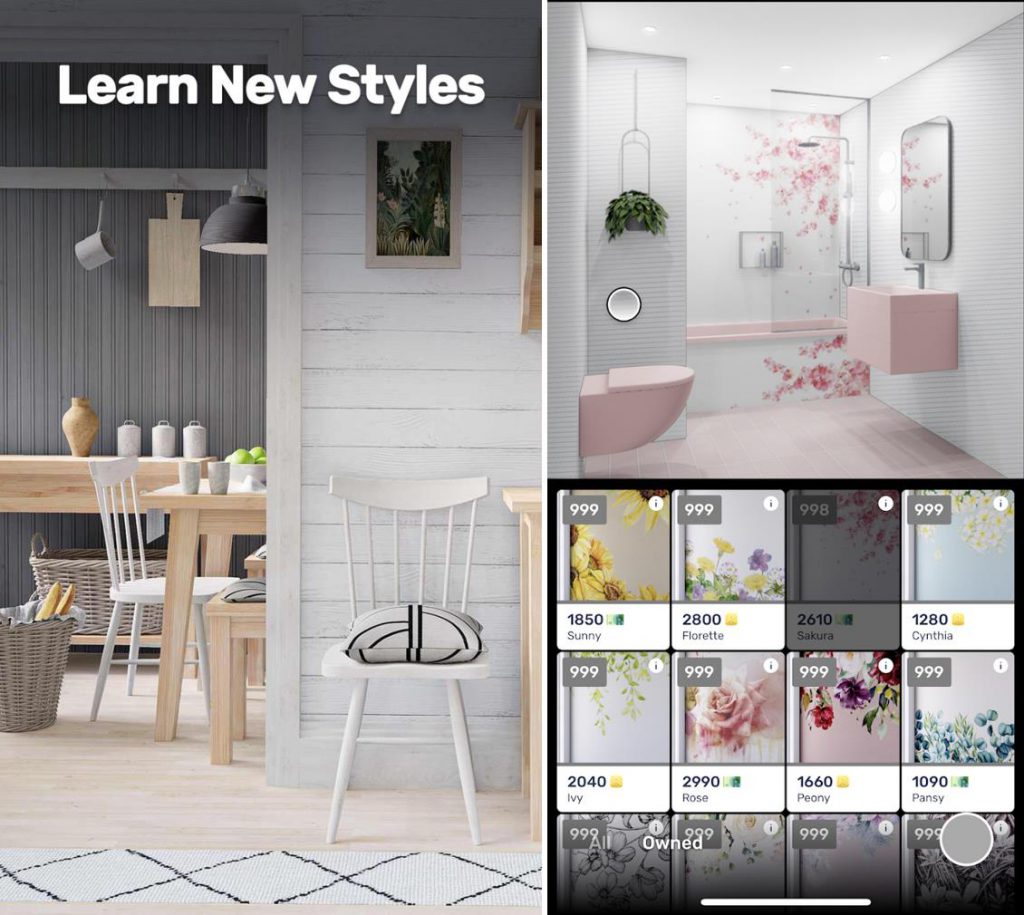 Screenshot of "Redecor" game
For Playtika, which went public at the beginning of the year, entering the field of decoration games through mergers and acquisitions is undoubtedly one of the simple, direct and most efficient ways. The company's previous financial report showed a 20% growth in 2021Q1 revenue, and it is estimated that revenue in the 2021 fiscal year is expected to reach 2.6 billion US dollars.
Robert Antokol, Co-founder, CEO and Chairman of Playtika, said, "Reworks provides us with an excellent opportunity to gain a leading position in this industry that attracts a lot of user interest, and is expected to enter the field beyond traditional games in the future. lay the foundation."
According to foreign media, Reworks is one of many investment targets under EQT Ventures. The company's investment team also includes "Big Bang Racing" developer Traplight and German ultra-leisure mobile game company Popcore. Reworks is the second case of EQT's game studio being acquired. Small Giant Games, which was invested by the company, was sold to Zynga for US$560 million in 2018 at a valuation of US$700 million.
Of course, for the start-up team, having "gold masters" like Playtika join, whether it is for game products or company development, is helpful.
Reworks co-founder and CEO said, "In "Redecor", we have created a leading entertainment product for the design community, and we are very happy to accelerate its growth through a partner like Playtika. Our creative ability and Playtika's technology Complementing our expertise in the data field, we think it will be very beneficial to future growth."
Open up the real and virtual world, decoration or the most "grounded" Metaverse
For all companies in the industry, the trillion-dollar potential Metaverse is obviously an opportunity not to be missed. However, according to the current mainstream assumptions, Metaverse's huge content requirements and complex platform building require a lot of investment. Even the big players in the technology and game industry such as Google, Facebook, and Tencent need to "hold big tricks" to enter the market. ".
However, for most small and medium-sized teams, the vast majority of people neither have the ability to build next-generation technologies, nor can they break through the "moat" accumulated over the years by UGC platforms such as "Roblox". In the face of the "King Bo" in the hands of the giants, they not only have no chance to shout "I can't afford it," they even have no chance to sit at the poker table.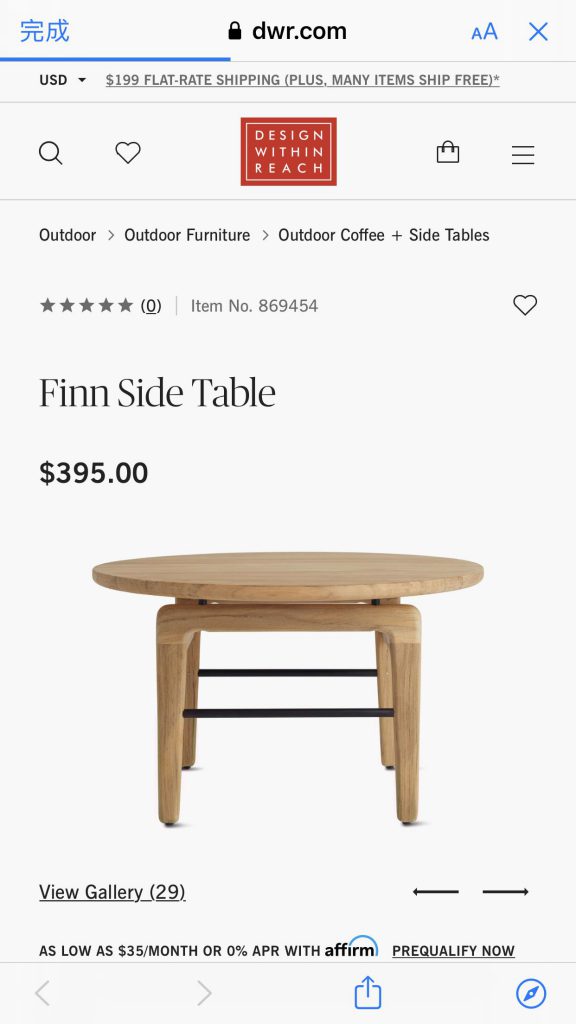 The e-commerce system in "Design Home"
However, decoration games are undoubtedly an opportunity for small and medium-sized teams to enter Metaverse. In fact, Glu's "Design Home" is already experimenting with the O2O mode (Online To Offline). For example, in 2020, the game will be launched on an e-commerce platform system. Players can view the details in 360 degrees after clicking on the corresponding product. They can either choose to buy in the game or enter the physical home improvement store to buy back their favorite furniture. Family.
From the perspective of user experience, the combination of O2O and games has undoubtedly opened up the boundary between reality and virtuality. In this scenario, the game is no longer just a product that provides entertainment, but also an online design platform that can provide convenience for real life. The low-threshold gameplay will infinitely enlarge the user pool of the game.
From the perspective of gameplay, O2O-style decoration can be used in many games, such as cities in SLG games, homes in MMO games, farms in business games, and even female-oriented beauty and the industry is very popular. You can try the O2O mode for your virtual idols.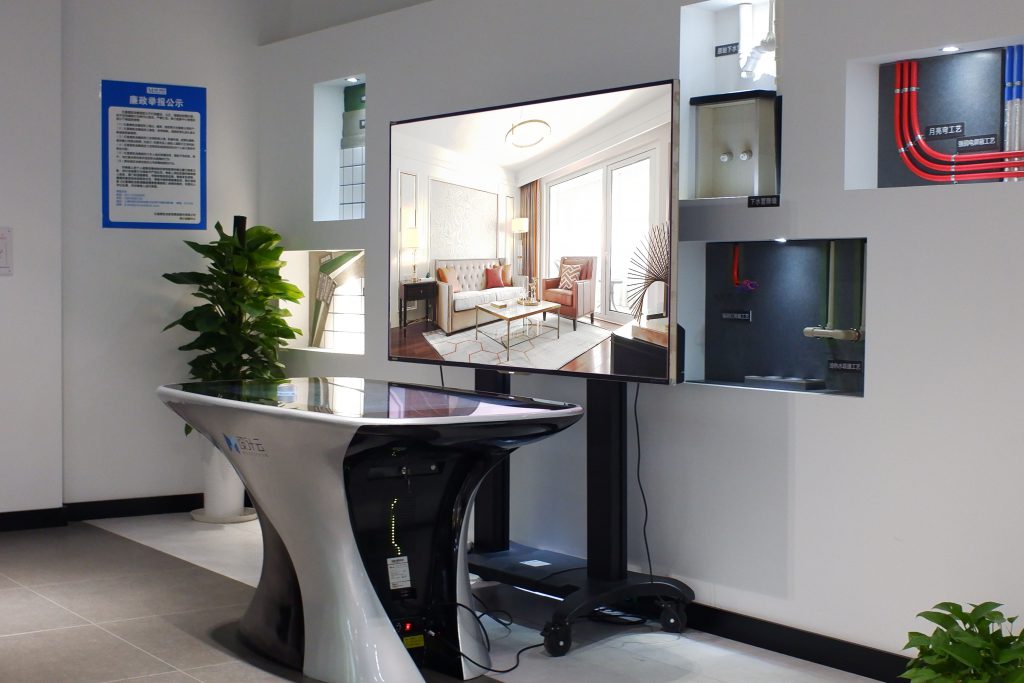 The design cloud intelligent 3D interactive terminal independently developed by Red Star Macalline, the picture comes from Red Star Macalline official website
Of course, in addition to game companies that move from virtual to reality, there are also many physical companies that are trying to move from reality to the virtual world. For example, Red Star Macalline, whose main business is home furnishings and home furnishings, has previously invested 240 million yuan to enter the field of 3D cloud design and VR home improvement; Ford, McLaren and other auto companies have also accelerated their models through cloud design and VR experience. Design and driving experience improved.
Concluding remarks
As an emerging concept, Metaverse gives people a lot of room for imagination. According to the vision of most people in the industry, it is a long-lasting and vivid digital world interconnected by multiple universes. It provides people with a sense of existence, social presentation and shared consciousness space, which can break the boundaries between virtual and reality and allow people to participate. The ability of a huge virtual economy with far-reaching social impact.
However, for this slightly "fantasy" definition, PMGO developer Niantic CEO John Hanke gave a completely different view. He believes that the Metaverse described by most people is a "dystopian nightmare" and the real Metaverse should not be It is to replace reality, but to make the human experience better.
However, before everyone reaches a consensus, as game developers, we actually don't have to worry about what Metaverse should be. Based on the above two viewpoints, the O2O-style decoration gameplay not only meets the definition of breaking the boundary between reality and virtuality, but also meets the requirements for a better human experience.
According to GameLook, for Metaverse, which is recognized as the future trend, game companies have a natural advantage in the field of connecting virtual and reality. Even if they don't have strong technical reserves and years of platform accumulation, they can still play through O2O decoration. Find your place in Metaverse.
This Article is curated from Source and we only provide the English version of the Story.