In the first Weibo Cup Finals of Glory of the Kings, the scene where Nanjing Hero defeated Beijing WB for a long time seemed to be yesterday. The young players' first-ever appearance, and the old and firm glory persisted, turning into a picture of passion on the field. At 15:00 this afternoon, co-hosted by Weibo, Weibo E-sports, and Wei-Sports Culture, and hosted by Mars Yaoyu Media, the 2021 second Glory of the Kings Weibo Cup, which will be exclusively broadcast live by bilibili, will start a fierce battle. Eight KPL teams are ready to go, and they will show a new lineup of chemistry in this duel. To control love and compete for glory, let us lock the bilibili live room number: 55, and witness the birth of a new honor together!
[8teamsarereadytogowhowillwinthechampionshipandbecometheking?】
This Weibo Cup will still directly invite 8 top KPL teams to participate. The eight teams participating in the event are Suzhou KSG, Xi'an WE, Jinan RW Xia, Chongqing Wolves, Foshan GK, Beijing WB, Guangzhou TTG and Chengdu AG Super Play Club. They will bring a new lineup and new tactics to show their training results on the Weibo Cup. After the game kicks off tomorrow, fans can go to the top Weibo of @微博杯官方赛官博 to cheer for the team you support and call, and your messages may appear in the[Weibo Wall]section after the daily game. In oh.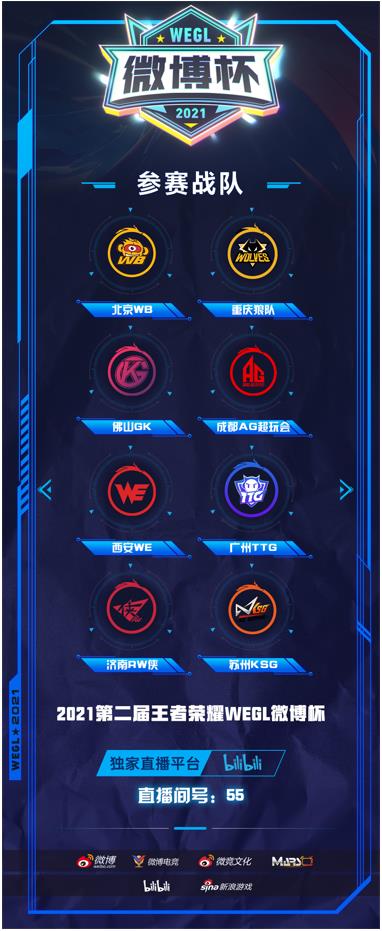 [Pointscompetition+finals6gamedaysfightingendlessly!】
The 8 participating teams will be divided into two groups in this Weibo Cup for a four-day double-loop group points match. All competitions use global BP.
Group A: Chengdu AG Super Play Club, Beijing WB, Suzhou KSG, Guangzhou TTG
Group B: Chongqing Wolves, Jinan RW Man, Xi'an WE, Foshan GK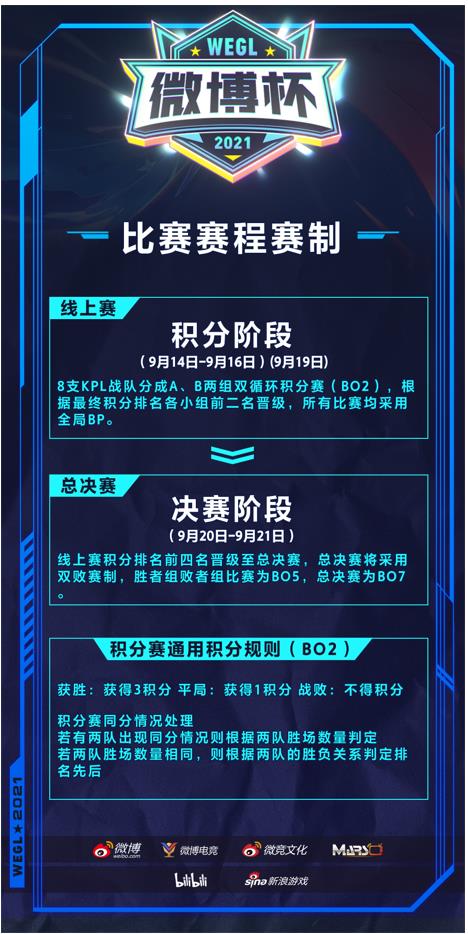 After the group points match, the top two teams of each group advance to the finals. The finals will start on September 20, lasting for two days, and adopting a double-loss match system. The winner's group and the loser's group stage will be BO5, and the championship will be BO7.
6 match days, 8 top teams, only 1 champion! The battle is endless, the glory is more than that! Remember to lock the bilibili No. 55 live room to watch the game in advance!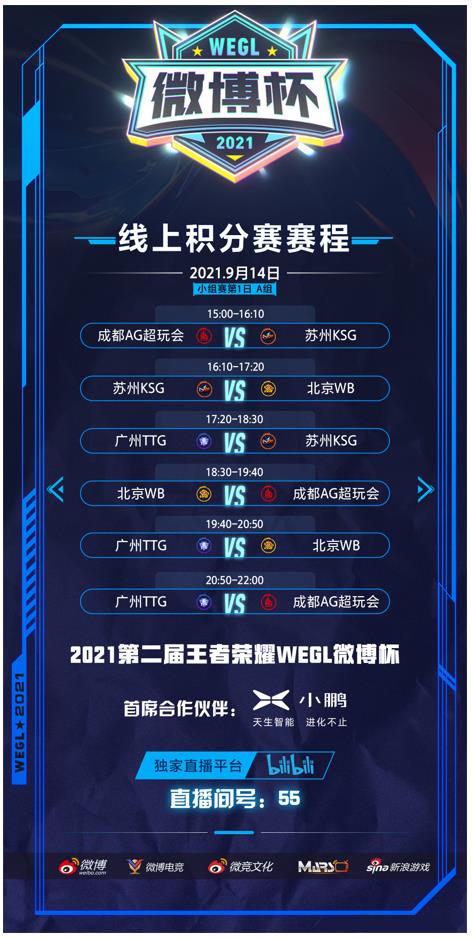 The battle is about to begin. Who can rule the canyon this time? Thanks to Xiaopeng Motors, the chief partner of the event, for their strong support for this competition. At the same time, thanks to Hupu Esports, Tuwan.com, Youjiu Esports, Score Saigo, Player Esports, Big Esports, Xunyou Mobile Game Accelerator, Phoenix Sports and Migu Kuaiyou and other in-depth cooperation media for this competition Strong support. See you on the Weibo Cup!
This Article is curated from Source and we only provide the English version of the Story.