Sensor Tower store intelligence data show that since its launch on September 28, 2020, the total revenue of Mihayou "Yuan Shen" in the global App Store and Google Play has reached 2 billion US dollars.
In the past year, "Yuan Shen" ranked No. 3 on the global mobile game bestseller list, second only to Tencent's "Honor of Kings" and "PUBG Mobile" (combined "Peace Elite" revenue), surpassing Niantic "Pokémon GO" and Roblox. The sandbox game platform "Roblox" of the same name. In overseas markets, "Pokémon GO" and "Roblox" are the highest-paid mobile games, ranked 2nd and 3rd respectively.Note: The data does not include third-party Android channels in China and other regions.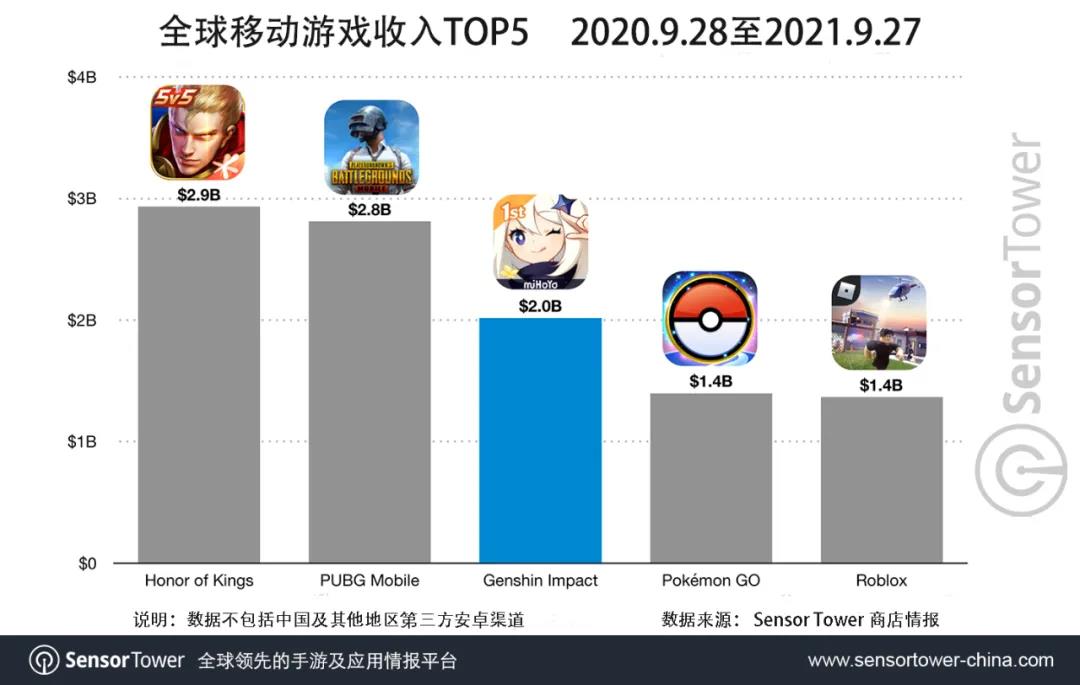 Once launched, "Yuan Shen" has achieved great success worldwide. After 6 months of launching, the total mobile revenue of the game reached 1 billion US dollars. For comparison, the mobile games "Pokémon GO" and NCSoft "Paradise M" took 9 months and 10 months to achieve this milestone; when the two games were launched on their first anniversary, the total revenue was US$1.2 billion and US$1.1 billion, respectively. .
As the market with the highest revenue on the mobile terminal of "Yuan Shen", China's iOS contributed US$577 million in the past year, accounting for 28.6% of the total global revenue. The Japanese and American markets rank second and third respectively, accounting for 23.7% and 21% respectively.
In terms of platform, revenue from Apple's App Store accounted for 61.8%, and Google Play accounted for 38.2%. However, in overseas markets, revenue from Google Play accounted for 53.6%, and Apple App Store only accounted for 46.4%.
With its open world and cross-platform gaming experience, "Yuan Shen" has broken people's expectations of mobile games in the past, and has won a large number of fans around the world. One year after its launch, the game has become one of the mobile games with the highest gross revenue in the world, and set a new monthly revenue record on the occasion of the anniversary. Looking forward to the future, we will wait and see what kind of surprise the next update of this world-famous game masterpiece will bring to the industry.
This Article is curated from Source and we only provide the English version of the Story.