【GameLook special manuscript, no unauthorized reprinting!】
GameLook report/Dog biting is not news, but dog biting is news. This is a classic saying in the traditional news industry about the value of news. When it comes to the game industry, there is also a clear example: the purchase and release that was once regarded as the sword is not news for a long time, and products that do not buy are "sell". news.
Recently, what has become "news" is a development product called "My Angela 2". As a casual game but not buying volume, it still gains high popularity, making it even more dramatic. It also proves that even today when buying volume is in volume, there is spring without buying volume.
Cumulative downloads exceeded 50 million, ranking first in Google Play download list
According to the 2021Q3 global mobile game data released by App Annie before the National Day, the new "Tom Cat IP Universe" "My Angela 2" topped the list of global mobile game downloads in the third quarter.
The publisher Tom Cat officially stated that since its overseas launch on July 13, "My Angela 2" has successfully surpassed 24 million downloads in two weeks, and reached the top of the Google Play download list in 15 countries and regions, and 90 TOP10 download list in more than countries and regions.
So far, only on Google Play, "My Angela 2" has been downloaded more than 50 million. In the case of no purchase, "My Angela 2" has achieved the current results quite well. On the App Store, "My Angela 2" also ranks among the TOP100 in more than 100 countries and regions.
Another third-party data agency confirmed the popularity of "My Angela 2". Sensor Tower's statistics show that in the first month of its launch, "My Angela 2" won the third place in the global mobile game download list and the first in the Google Play single-channel download list. In August, "My Angela 2" remained in the TOP10 list of global mobile game downloads, and also ranked first in the Google Play download list.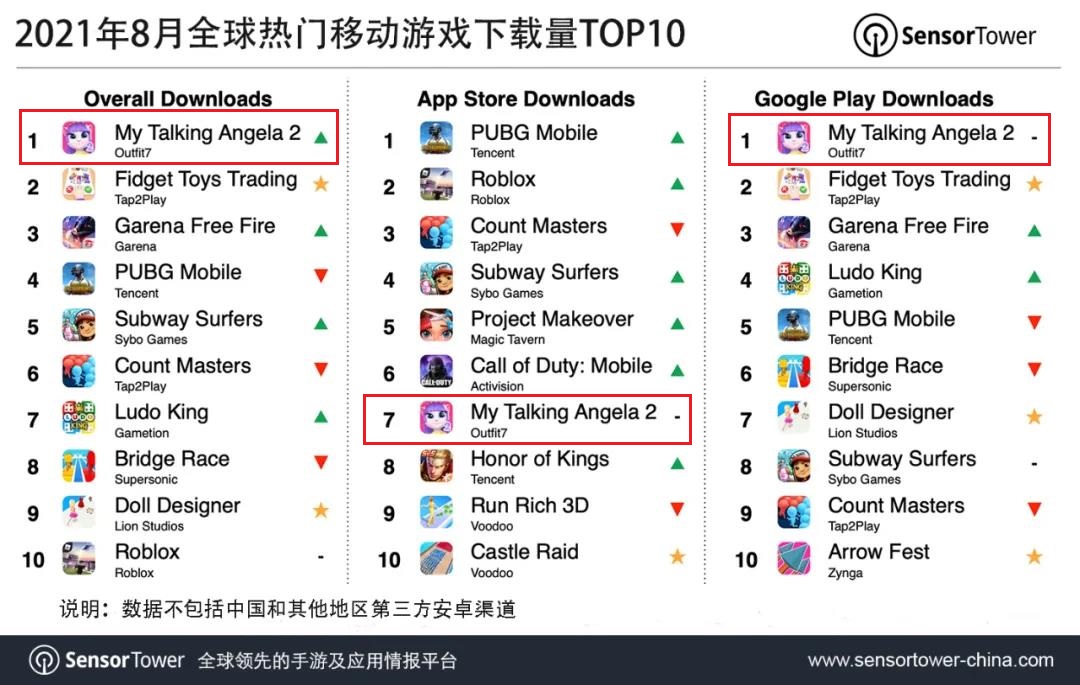 "Non-mainstream" marketing method, cross-promotion welcomes spring
How to attract users to download if there is no purchase? The answer to "My Angela 2" is cross-promotion.
As early as 2014, Outfit 7, the developer of Talking Tom's IP series, began to make good use of cross-promotion and launched a special service Bee 7 to reduce traffic costs. At that time, cross-promotion was one of the most common ways to acquire customers for casual games. At that time, Ketchapp, another major casual game publisher, was also known for cross-promotion.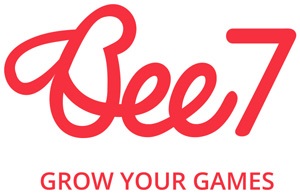 However, with the intensified competition in the game market and the rise of simpler, shorter and faster ultra-casual games, cross-promotion becomes more and more untimely.
Voodoo, known as the "King of Mini Games", chose not to force traffic to its own products, but to sell them at a high price. In Voodoo's view, 100,000 or 200,000 downloads are irrelevant. If you sell the same traffic, you can get tens of millions of income.
Thanks to this, Voodoo officially became profitable in 2017 and became a representative of ultra-casual games. In August of last year, it received a stake in Tencent, with a valuation of more than US$1.4 billion. In contrast, after Outfit 7 founder Samo Login sold the company for more than $1 billion, he admitted in an article on the official website of the newly established Login5 Foundation that the cross-promotion service Bee 7 had failed.
Samo Login concluded that the main reason for the failure of Bee 7 was "we were not hungry", and the background was that the company had developed new products that were not successful enough.
The case of Bee 7 is the universal fate of cross-promotion. Assuming that the guided products are of high quality, everything is happy. If the performance of the product fails to meet expectations, not only the new product Waterloo, but also the users derived from the old product will be lost, forming new and old products. "Lose-to-lose" result.
IP becomes the key, good products cover retro marketing
Therefore, "My Angela 2" did not buy volume, but chose to cross-promote this relatively "retro" and "non-mainstream" marketing method. It really takes some courage.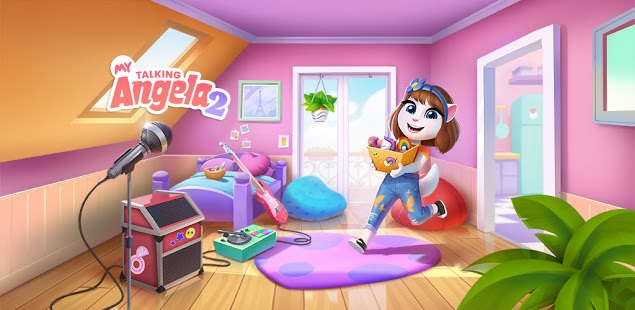 Of course, even if the purchase volume distribution gradually becomes more popular in casual games, casual games will naturally have shortcomings in terms of purchase volume. Unlike heavy games, casual games do not have enough ARPU to support the marketing costs of "big publicity".
In today's increasingly high traffic cost, casual games are difficult to compete with heavy games, especially as major manufacturers enter the game to buy and release, the cost of buying is further rising. Hot Cloud data in 2017 pointed out that the CPA cost of some games for a single user exceeds 300 yuan, which is an unbearable burden for casual games anyway.
In other words, although cross-promotion is declining, the purchase volume is no different from drinking poison to quench thirst, and whether cross-promotion or purchase volume issuance, excellent "successors" are needed to support it. This also leads to another core issue, that is, the IP of casual games.
Tom Cat can be said to be one of the only remaining casual game IPs from the early days of mobile games to the present. It is still active and has works published during the same period, and has formed an IP with the same influence but Angry Birds. IP can greatly improve the cost-effectiveness of cross-promotion. Of course, it also needs to be built on the premise that the new work can bring IP fans an upgrade in experience.
Compared with the previous work, "My Angela 2" goes a step further towards the "feminine" style. The gameplay is not limited to "parrot learning", but a collection of dress-ups. Players can change clothes, make-up, and customize their own "Angela". Players can even ask "Angela" to travel and shop in different countries and take a photo to commemorate. The game also adds some small games to enrich the overall experience diversification.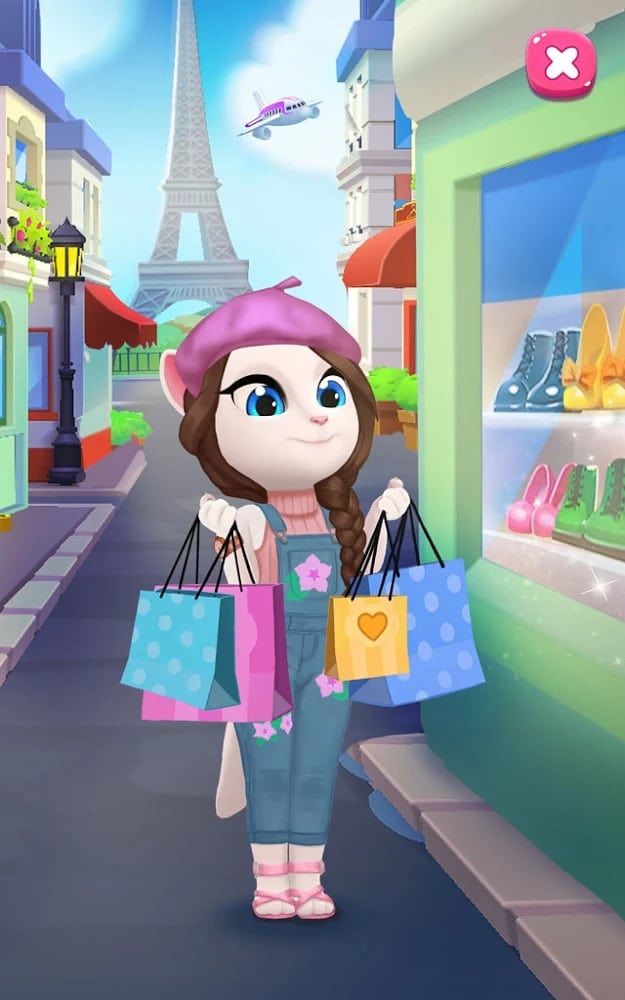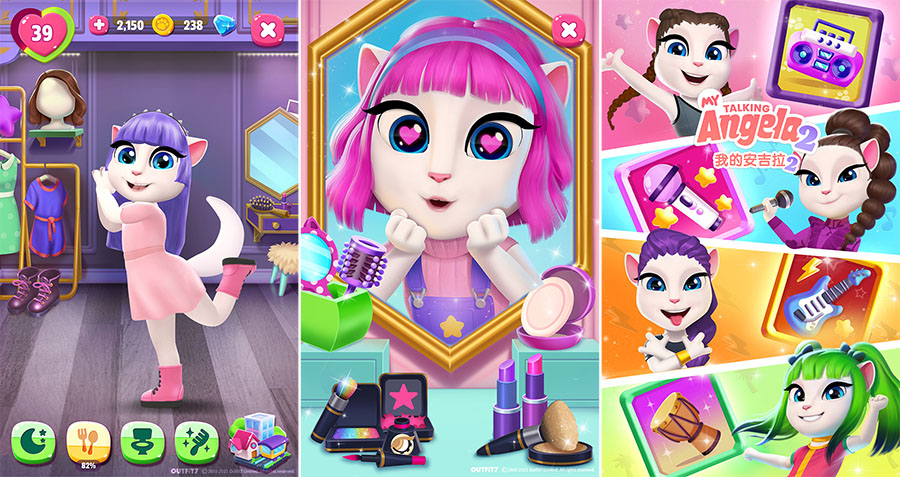 At the same time, "My Angela 2" also inherits some classic settings from the previous game. Players need to take care of "Angela"'s daily life to meet her rest and hygiene needs.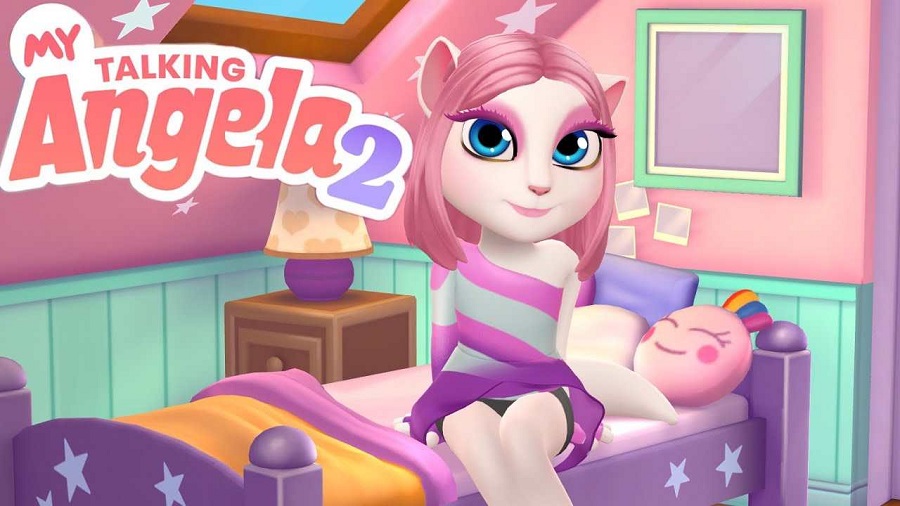 Therefore, from an experience point of view, "My Angela 2" has a more adult female user side in terms of art style and gameplay, but at the same time retains the characteristics of children's games, that is, setting an example for children through events such as brushing their teeth. This also seems to reveal the purpose of the developer Outfit 7, to attract more young female users on the basis of inheriting the previous children's game market. The experience of inheriting the classics and pioneering at the same time is also the confidence that "My Angela 2" has exceeded 50 million downloads without relying on purchases in a few months.
The only level of IP attention, buying volume is not the only way out
All in all, the existence of IP allows "My Angela 2" to live well without buying volume, and the official level of attention to IP is unique in the industry.
In order to further solidify the IP influence, in July this year, Outfit 7's parent company Jinke Culture even announced that it officially changed its name to "Tom Cat", which was officially explained as highlighting the core business of listed companies.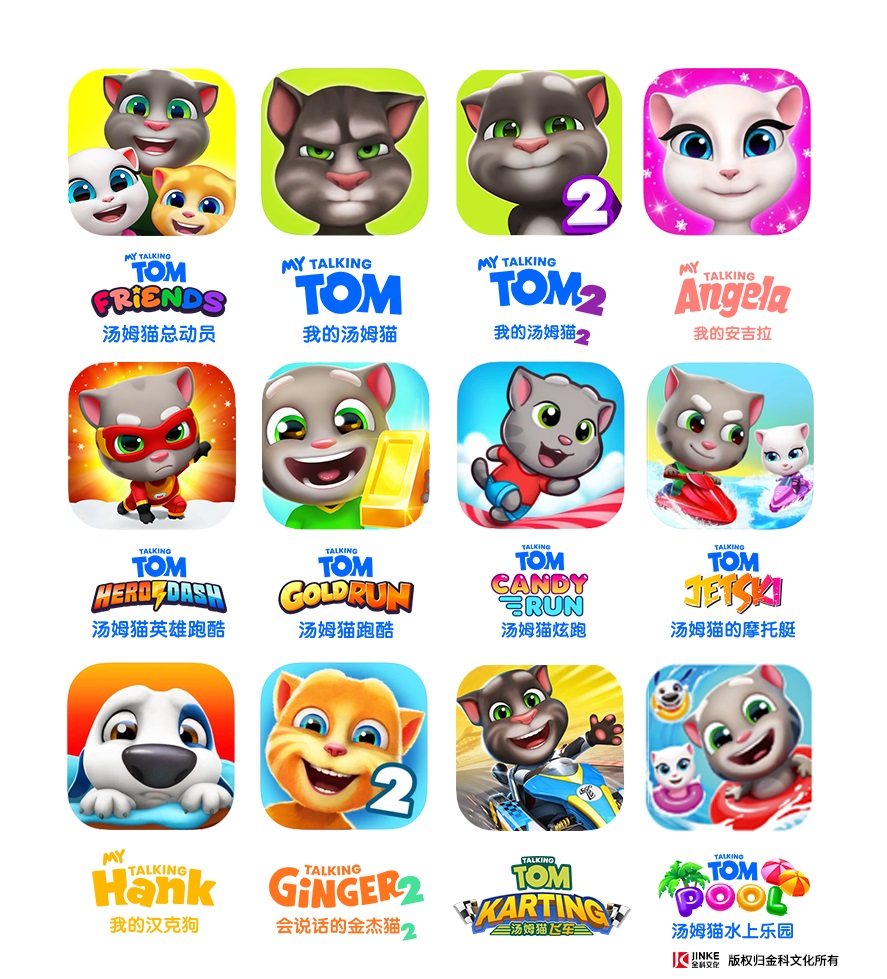 This is a vivid but inaccurate example. It can be understood that Mihayou changed its name to "Original God", Yingjiao changed its name to "Tomorrow's Ark" and so on.
Tom Cat's emphasis on the "Talking Tom" IP family is also excusable. The financial report shows that Jinke Culture will achieve revenue of 1.807 billion yuan and profit of 787 million yuan in 2020, of which Outfit7 will contribute 1.329 billion yuan in revenue, accounting for 74% of the contribution. The profit is 783 million yuan, accounting for 99%.
In 2020, there will be more than 20 products related to the "Talking Tom" IP family, and the cumulative number of downloads worldwide will exceed 15 billion, with monthly activity exceeding 380 million and daily activity exceeding 50 million. Not only online, the "Talking Tom" IP has evolved to offline entities. At present, the "Talking Tom" IP has developed more than 2,000 SKU peripheral products and opened theme parks in Hangzhou, Hefei, and Foshan.
The case that "My Angela 2" can become popular without buying volume may be difficult to replicate, but it at least reminds us that buying volume may not be the only way out.
This Article is curated from Source and we only provide the English version of the Story.