[GameLookspecialmanuscriptnoreprintwithoutauthorization!】
GameLook report/In the game industry, player churn is an unstoppable and inevitable phenomenon. No matter how good a game is, its player churn rate is far lower than that of its competitors, especially in the field of mobile games.
As the demographic dividend disappears and the market enters the stock stage, it is becoming more and more difficult for purchases to make up for the new demand caused by the loss of most game users. At this time, recalling lost players has become an important way to increase game activity and extend the life cycle.
Recently, the mobile data analysis company GameRefinery analyzed the recall activities of lost players in a variety of mobile games, and summarized some of the more practical and popular 4 types of recall activity design methods.
The following is the detailed content of GameRefinery compiled by GameLook:
Many colleagues know that the first impression is very important, but what about the second impression? When we want to re-engage players who have been lost due to various reasons, the first obstacle is to attract their attention again and get them back into the game. Advertising can bring some help, but another and equally important step is to involve new players who are returning to the game and feel welcome. Last but not least, make them think that returning to the game is a very good decision. .
In cases where this type of re-engagement is necessary, players may lose their connections, or their game progress may have fallen behind. The return of players depends largely on which category your game belongs to. For example, in the highly competitive SLG category, energy progress is everything. Players may need more help to start again. However, the threshold for returning to casual games that focus on match-3 or similar gameplay is not high.
Creating the correct return content for your users may be a behavior that needs to be balanced. While providing players with a reasonable energy injection, you must also consider helping them re-understand the needs of the game.
Our analysts have been focusing on in-game events and content tailored to recall players. There are many contents designed to allow players to participate in the game again, from simple gifts to complete activities that last for several days and so on. Our purpose today is to understand the entire market and various interesting cases of different categories, and explore which way can help you capture the attention of players again and recall the lost players back to the game.
1. The player returns to the gift
After returning to the game for a while, the easiest and most widely used way to bring satisfaction to players is to return to gifts. Ways to do this include (but are not limited to) issuing special gifts through mailboxes, preparing them to return to the log-in days calendar, or giving them free items or props to speed up their game progress again.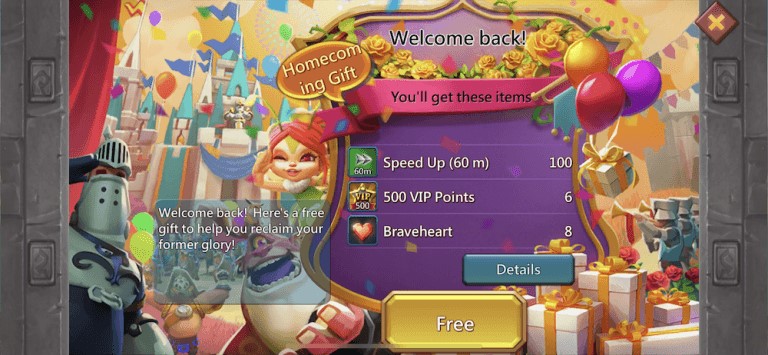 The return gift of the SLG mobile game "Kingdoms" disguised as other in-app purchase gift packages, but the difference is that it is free, which brings a very valuable feeling
Log-in calendars are very popular in the Japanese market, and they are used in almost all categories as a simple mechanism for players to re-engage. When you open your game at any time, or even log in frequently, there will be multiple login rewards waiting for you to claim it. Adding return gifts is the easiest way to recognize returning players and welcome them back.
Nevertheless, since there are usually multiple login activities, it is easy to confuse it with other activities in the game, so that it is difficult for people to find. One way to solve this problem is to make the return login activity particularly attractive. For example, the return log-in activities of some games will increase a lot of paid currency, free gashapon (drawing card) coupons, and add exclusive items in the return log-in activities.
Although the exclusivity of rare collection items and decorative items is very attractive, gashapon (drawing card) coupons allow them to obtain characters that take a long time to obtain in other ways, helping them to promote the progress of the game. Sometimes, the return to login activity itself is progressing, and the most attractive rewards often take days to log in to get.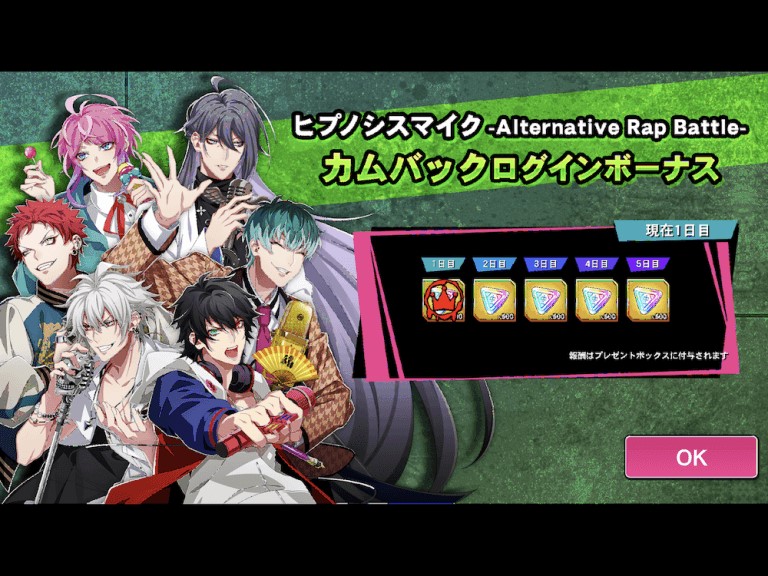 Japanese music and dance game "Hypnosis Mic Alternative Rap Battle" provides returning players with 500 paid currency per day for five consecutive days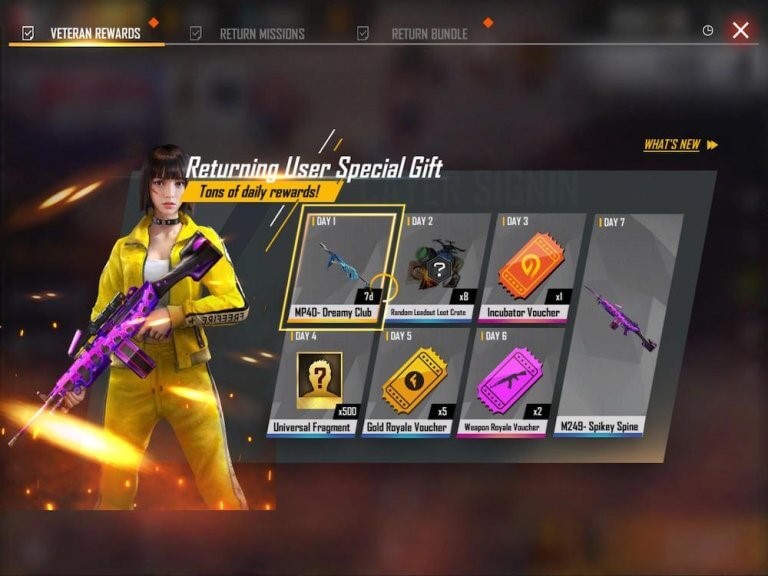 The return player login reward of "Garena Free Fire" is an exclusive weapon skin, which is a very valuable reward, especially for those who like to play the game for free. Other content in the event also includes return missions and promotional gift packs.
In the leisure field, one of the most popular rewards is to give them free items or limited-time value-added items, limited-time unlimited lives, and other one-time gifts that can be returned to the game. Limited-time items are a great way to let players participate and encourage them to play the game, at least for the duration of the item's validity period. The better the props, the less the player wants to waste this opportunity. For casual games, a well-designed return gift is usually the only way to get players to participate in the game again.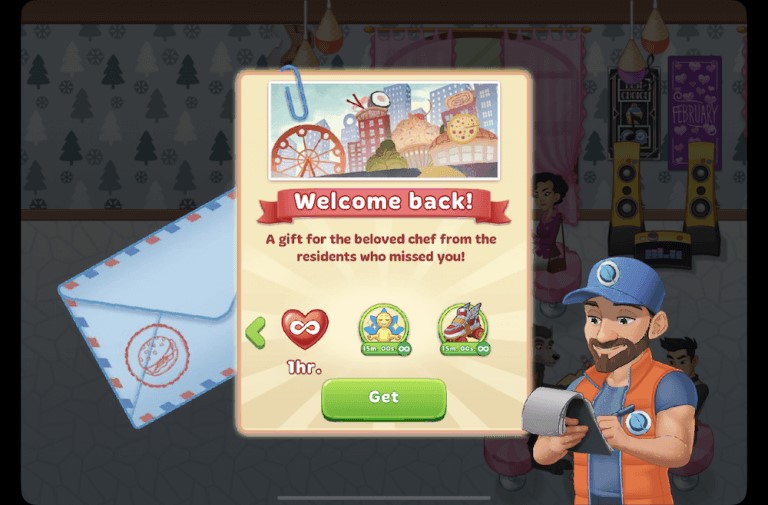 Kickstarting progress: "Cooking Diary" prepares time-limited and unlimited life events and props for returning players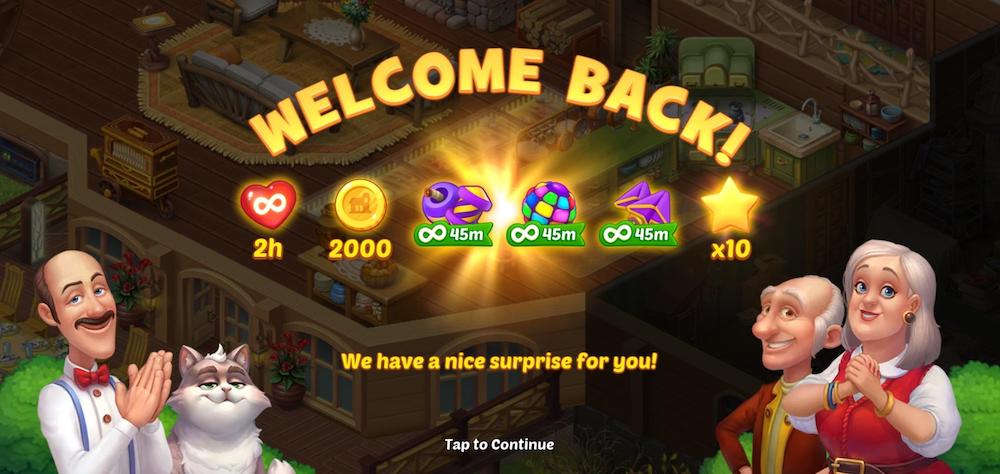 "Dream Home" provides players with a very generous gift package, including limited-time props, lives and more
2. Provide promotional monetization for recalled players
Although the main goal of recalling players in the game is to get them to participate in the game again, there are no regulations that do not allow sales opportunities. Although it is difficult for lost players to spend again, players who return to the game to spend will have more motivation to stay, so that their payments will not be wasted.
Games usually provide very good promotional options for recalled players, and provide players with a shortcut to keep up with the progress of mainstream users long after they leave the game. These promotions are usually time-limited, creating a sense of exclusivity and urgency. Unlike separate return promotions, they are usually part of a larger campaign for recalled players.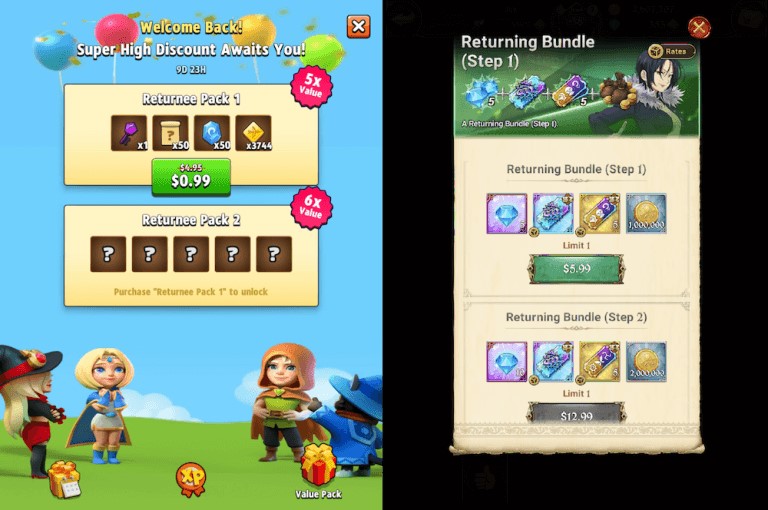 Both "Legend of Bow and Arrow" and "The Seven Deadly Sins" offer special return promotions for recalled players
In Japanese mobile games, we even encountered some return gashapon promotions. These gashapons may be targeted at rare and strong character pools, or they may draw cards at a very cost-effective price. Another way to add a gashapon in the comeback event is to send Wanjia draw coupons to remind them of the fun of drawing cards.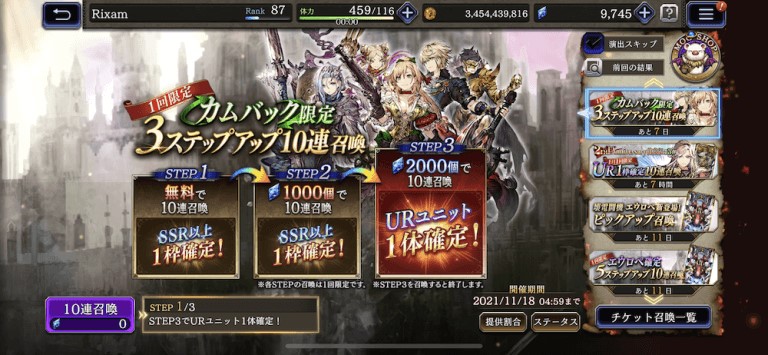 The jumping mechanism in the game "FFBE War of the Vision", the first 10 consecutive draws are free, and the guarantee is given to an SSR character.
Another interesting case of recalling players to cash out comes from "State of Survival". The Survivor Recall event takes the Battle Pass in the original game one step further. The entire event setting also includes daily landing gifts with rare character fragments, promotional gift packages, and tasks to achieve specific scores. When opening the game, players will receive a letter with a gift, and even a video greeting from the character, showing what happened in the game when you left.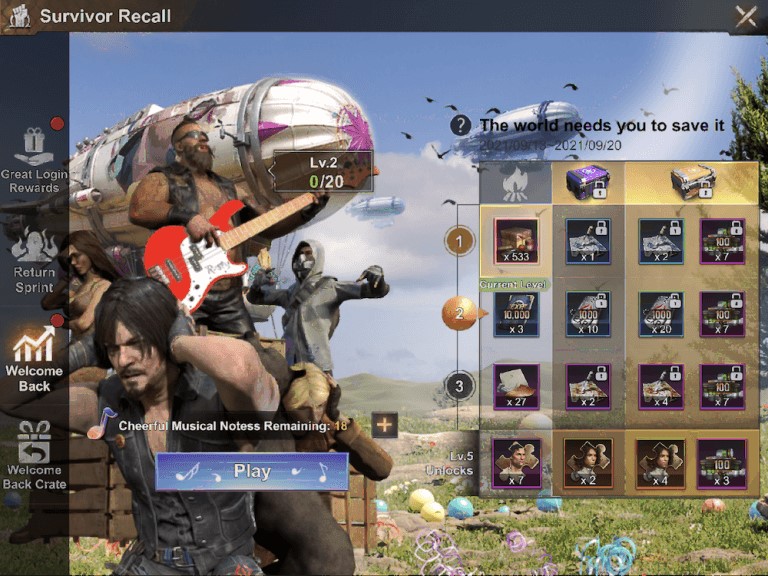 The Survivor Recall Battle Pass in the "State of Survival" game has three levels, one is free, and the other two are paid with different amounts. Players can get points through normal gameplay activities, and then insert them into the pass by letting Rusty play the guitar.
3. Use return missions and more ways to guide players
Gifts are great, but usually they are just a one-time joy when opening the game. In order to allow players to truly participate in the game, many games have added different forms of player return tasks. Depending on the category, these tasks may vary from simple task lists to goals that take many days to complete. In moderate games, there are often more complicated points systems.
Generally speaking, these tasks include some behaviors that players would complete in normal gameplay. These tasks even look like short-term sprint tasks. In the game, players are allowed to participate in a series of basic activities. Returning tasks in this way can make the players adapt to the rhythm of the game again, because these tasks are usually not particularly difficult to complete. , Participation in activities is often rewarding compared with the time they put in.
In summary, these activities usually add a huge reward for completing all tasks.
There are many forms and different scales of regression tasks. Ladder rewards are very popular, but we will also see broader goals, stage goals, and some tasks will be opened on specific dates of the event or new goals will be issued. For point collection activities, this setting can also increase daily refresh tasks.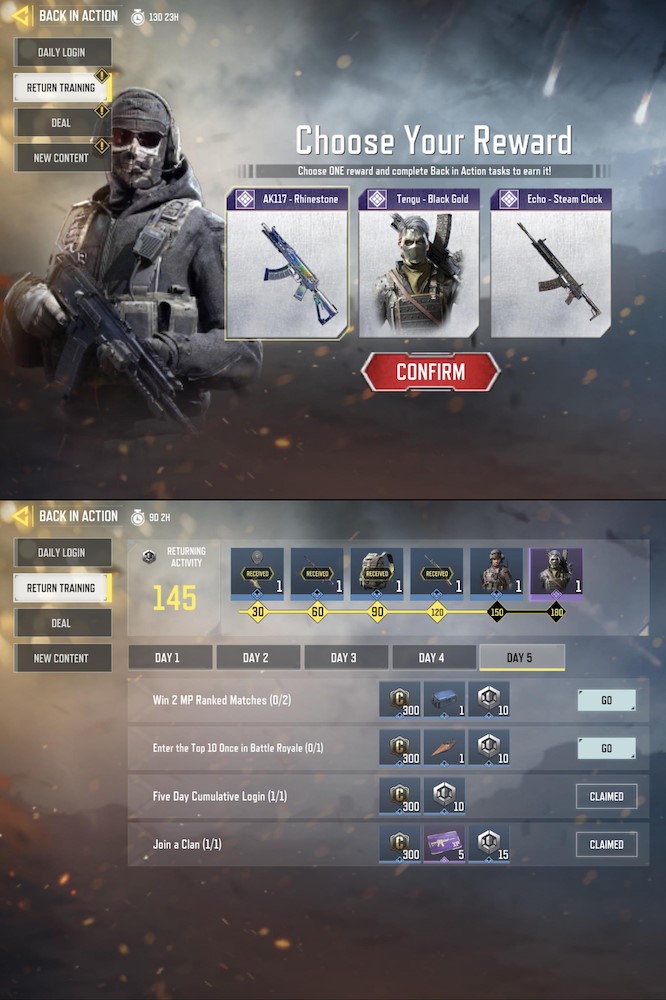 "CODM" provides recalled players with a 5-day mission with ladder rewards. The main reward is to choose one of three. This allows players to personalize their return experience and attract a wider user base. Other content of this type of activity includes login rewards and in-app purchase promotions.
Although many recall missions we encounter are usually more common gameplay missions, not all regular missions are the same in all regions. In the Chinese market, online time rewards sometimes increase player participation, and player recall activities are no exception.
For example, the Chinese music and dance game "QQ Hyun Dance" has added online duration tasks to the player recall task, as well as login rewards, in-app purchase promotions, and friend recommendation rewards. During the event, "QQ Dance" even provides players with buffs that bring extra experience and rewards in specific gameplay modes.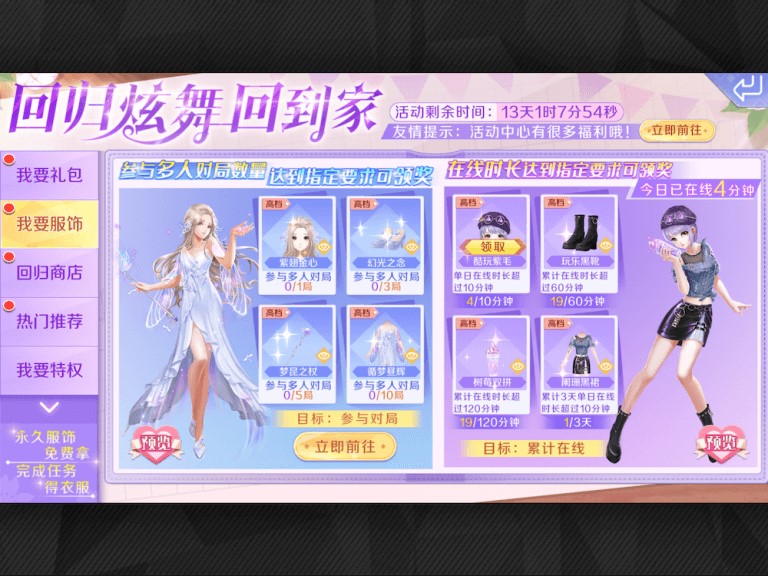 The goal of recalling players in "QQ Dance" includes online duration missions and a variety of decorative items as rewards.
To cite a few examples, the same buff system still appears in games such as "State of Survival" and "Endless Duel". In "Endless Duel", recalled players can get extra alliance points, extra game currency rewards and extra matching rewards, which can all promote the progress of the game. "State of Survival" combines activity buffs (increased speed of construction, training, and research) with mission points to allow players to return to normal game progress.
Tasks and buffs can be used as a kind of soft tactics to guide players to master the knack of the game, and also allow them to participate in reward activities when they return. As a way to help players return to a more direct way, we also found that some games subtly allow players to revisit novice teaching when needed.
Nevertheless, when attracting experienced players, more aggressive task setting and reward rhythms are still very helpful, especially in more complex games.
4. Use the friend system to recall lost players
For games with heavy social mechanisms, it makes sense to reactivate players using Friend Networks and in-game contacts. More importantly, the existing interpersonal network can lower the threshold for players to return. Generally speaking, for this kind of re-participation in the game, rewards are usually given to both inviting players and recalled players.
A good example is "PUBG MOBILE", this game provides active players with recall activities, and separate activities for lost players.
The recall activity in "PUBG MOBILE" will issue rewards based on the number of users recalled by the player. Once these lost players get started, it will also provide players with further tasks to complete with these lost users. Completing these tasks can get a recall in exchange for rewards. Token.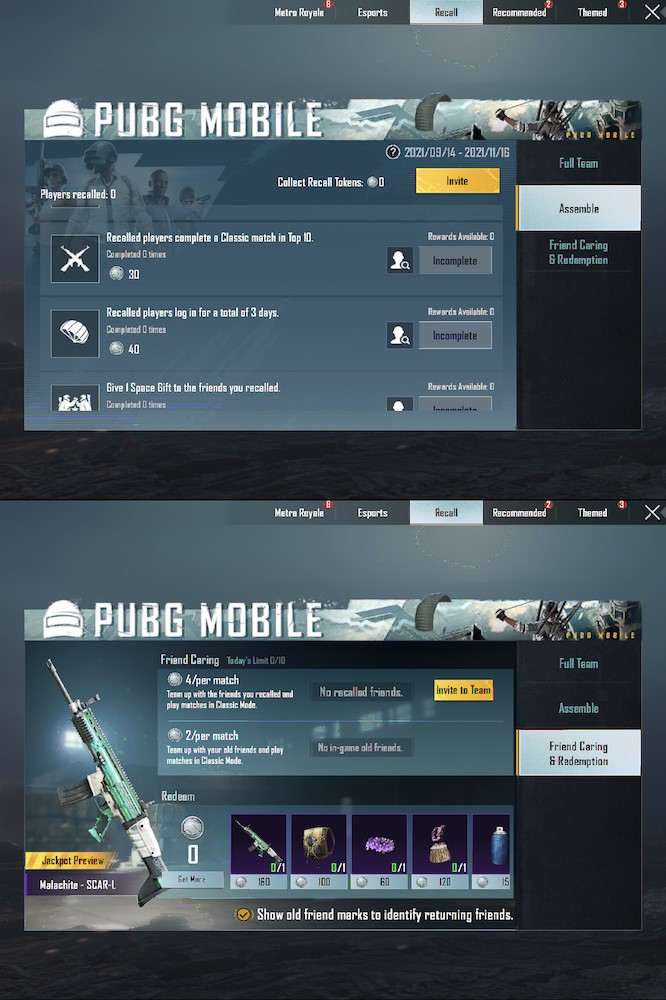 In the "PUBG MOBILE" recall activity, teaming up with returning players is rewarded
Once players return to the game and get started again, they will have their own return activities to complete. For recall activities, the case of "PUBG MOBILE" is a very good supplement in addition to login rewards, in-app purchases, refresh tasks and high-value rewards.
Summarize
Player recall activity is a very valuable tool, it can make lost players become active again, the above are just some of the frequently encountered cases. In general, there are no restrictions on the design of recall activities. Depending on the category and market, the content of such activities may vary greatly.
For example, compared with more complex strategy games, recalling casual games and losing players has a completely different scale and needs. The key to designing an excellent recall event is to design the content according to the player group without being boring, so that the gifts and buffs seen by the lost players are actually helpful and valuable in terms of gameplay.
This Article is curated from Source and we only provide the English version of the Story.