The Sensor Tower store intelligence platform shows the revenue ranking of Chinese mobile game publishers in the global App Store and Google Play in November 2021. In this issue, a total of 37 Chinese manufacturers were shortlisted in the TOP100 global mobile game publisher revenue list, with a total of more than 2.23 billion U.S. dollars, accounting for 38.3% of the global TOP100 mobile game publisher revenue. The detailed report is as follows.
Special note: This report only counts the income of publishers, and does not include third-party Android channels in China.
Top 30 Chinese mobile game publishers by revenue
Due to the opening of the new phase of prayer and the launch of version 2.3 at the end of the month, the global revenue of Miha Tour "Yuan Shen" mobile terminal increased by 95% month-on-month to US$207 million, and publisher revenue increased by 76% correspondingly, making it a stable Chinese mobile game release Top three in business income list. Since its launch at the end of September last year, Yuanshen's revenue in the global mobile market has exceeded 2.3 billion U.S. dollars, with an average daily deposit of more than 5.4 million U.S. dollars. It is the third-largest mobile game in the world by revenue during the same period, second only to Tencent's "Honor of Kings" and "PUBG Mobile" (combined "Peace Elite" income).
IGG's idle game "Mythic Heroes" launched in the European and American markets in September saw a surge in revenue of 138% in this issue, becoming the publisher's second-ranked mobile game by revenue. The game has not yet landed in the Japanese and Korean markets, and the follow-up potential is worth looking forward to.
Chaoxi Guangnian's mobile game "Wulin Xianxia" and the developed mobile game "The Moon of Huayishan Heart" were launched in November, becoming a new revenue growth engine for publishers in the Chinese market after "One Piece Passionate Blood Route" . In overseas markets, with products such as "RO Ragnarok: The Birth of a New Era", "Highly Skilled Hands", "World Project Colorful Stage! feat. Hatsune Miku" and other products, the business map of Lightnian in Southeast Asia, Japan and other markets Further expansion. The issuer's revenue in this period increased by 15% from the previous month, ranking 20th on the list.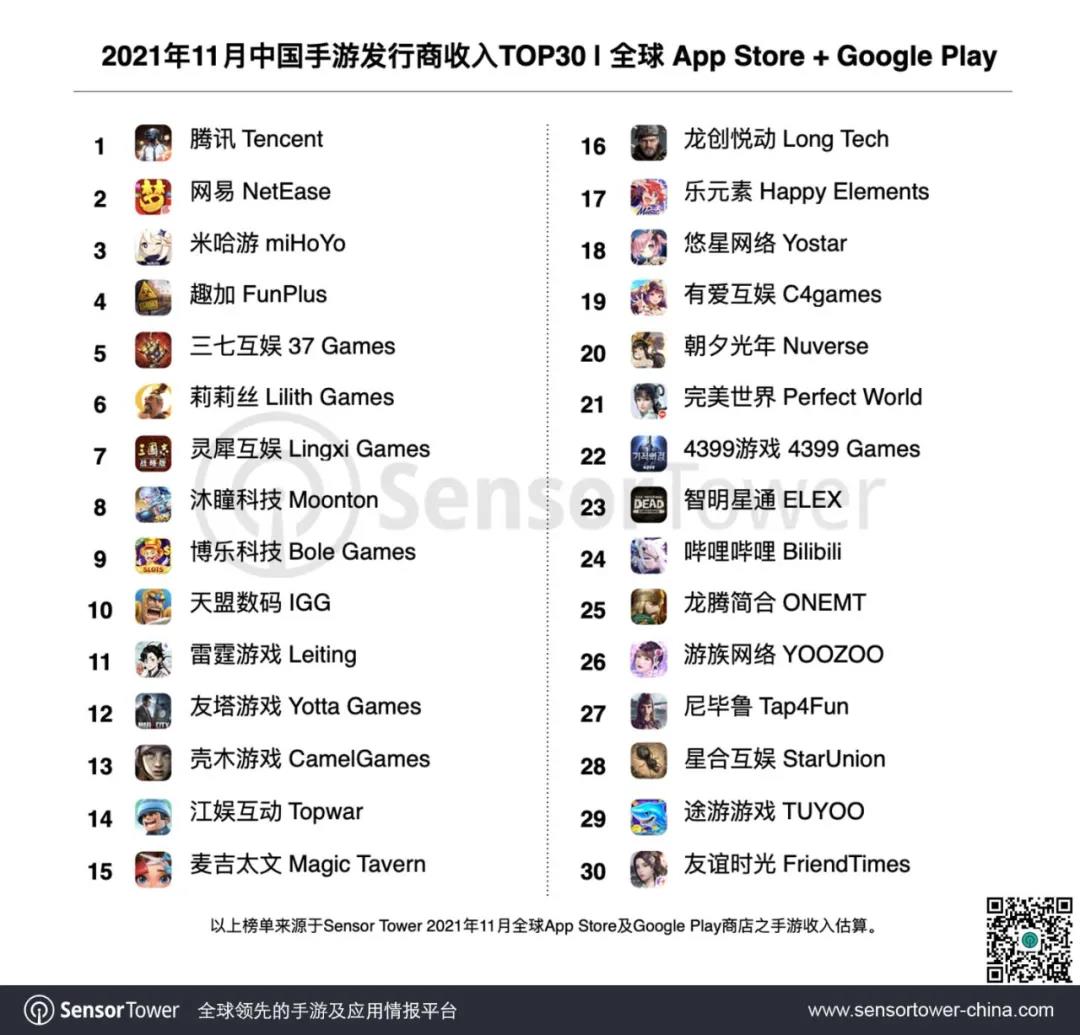 Longteng Jianhe's new imperial simulation game "King's Choice" has entered a fast-rising channel, and the revenue of this issue has increased by 30% from the previous month.
Xinghe Mutual Entertainment's SLG mobile game "Little Ant Kingdom" increased its revenue by 6% month-on-month, hitting a new high. The publisher's other mobile game "Beasts & Puzzles", which integrates monsters and doomsday themes, has recently launched a test in the Android market. The game adopts elements that Western players love in terms of themes and gameplay. It is expected to become another opening up to the European and American markets. Explosive new tour.
With the excellent performance of "Fishing Fight" and "Rich Mahjong", Tuyou game revenue in November increased by 22% month-on-month and 251% year-on-year, ranking 78th in the global mobile game publisher revenue list, and a Chinese mobile game publisher Ranked 29th.
Two-dimensional mobile game products have been a popular track for Chinese manufacturers in recent years. There are also many new products launched in overseas markets in this issue, including Bilibili's "Mobile Fighter" and Youxing Network's "Revived Witch".
In addition to the list, the Chinese mobile game publishers that are shortlisted for the TOP100 in global revenue are followed by 37 companies including Competitive World, Chuangku Interactive, Eagle Corner Network, Duoyi Network, Xindong Network, Hero Interactive Entertainment and Six Waves.
China's App Store mobile game revenue TOP20
With the help of rich activities in the fourth row, Tencent's "Peace Elite" revenue in November increased by 67% month-on-month, returning to the top of the best-selling list of Chinese mobile games.
In addition to the aforementioned "Original God" and "Fishing Fight", the mobile game with a larger increase in this issue is the Perfect World "Fantasy New Zhuxian", which increased by 53% from the previous month and ranked 19th on the list.
"Wulin Xian Xia" released by Zhao Xi Guangnian on November 18, ranked 25th in the income list in less than half a month.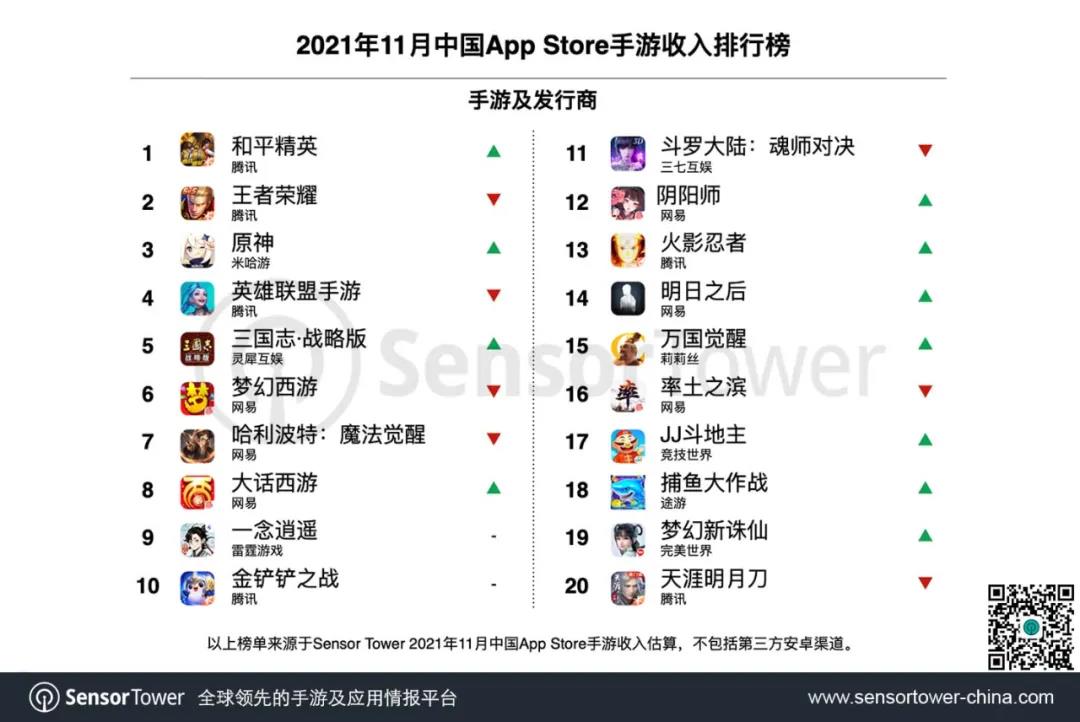 This Article is curated from Source and we only provide the English version of the Story.