[GameLookZhuangaodonotreprintwithoutauthorization!】
GameLook reports/Recently, investment bank Drake Star Partners released the "2021 Global Game Market Report", which counts transactions including private investments, public offerings, and mergers and acquisitions. Investors poured more than $85 billion into gaming companies in 2021, with 1,159 deals initiated, breaking the 2020 gaming market record, according to the report.
Here's the full report compiled by GameLook:
Michael Metzger, a partner at Drake Star Partners, said in an interview: "This year (2021) the gaming market is almost three times as large as last year, which is absolutely beyond anyone's expectations."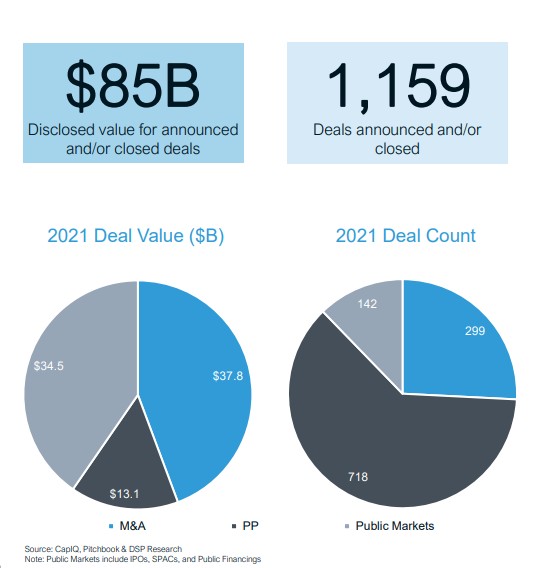 Driven by strategic investors such as Embracer, Tencent, Epic Games, Take-Two, Sony, Stillfront, Zynga, EA, ByteDance, Devolver and MTG, the total M&A deal value reached $38 billion. Private equity firms, venture capital firms and strategic investors poured $13 billion into private companies in 681 deals.
In this regard, Michael Metzger also said, "What is more exciting is the new capital flowing into this field, which has been very strong in the third quarter of last year. We have seen a significant increase in the number of transactions and transaction value, which will have Help build the next generation of companies."
Among them, Epic, Dream11 and JamCity have made large rounds of financing. Bitkraft, Andreessen Horowitz (A16z), Galaxy Interactive, Makers Fund, Play Ventures and Griffin Gaming Partners are the most active gaming VCs.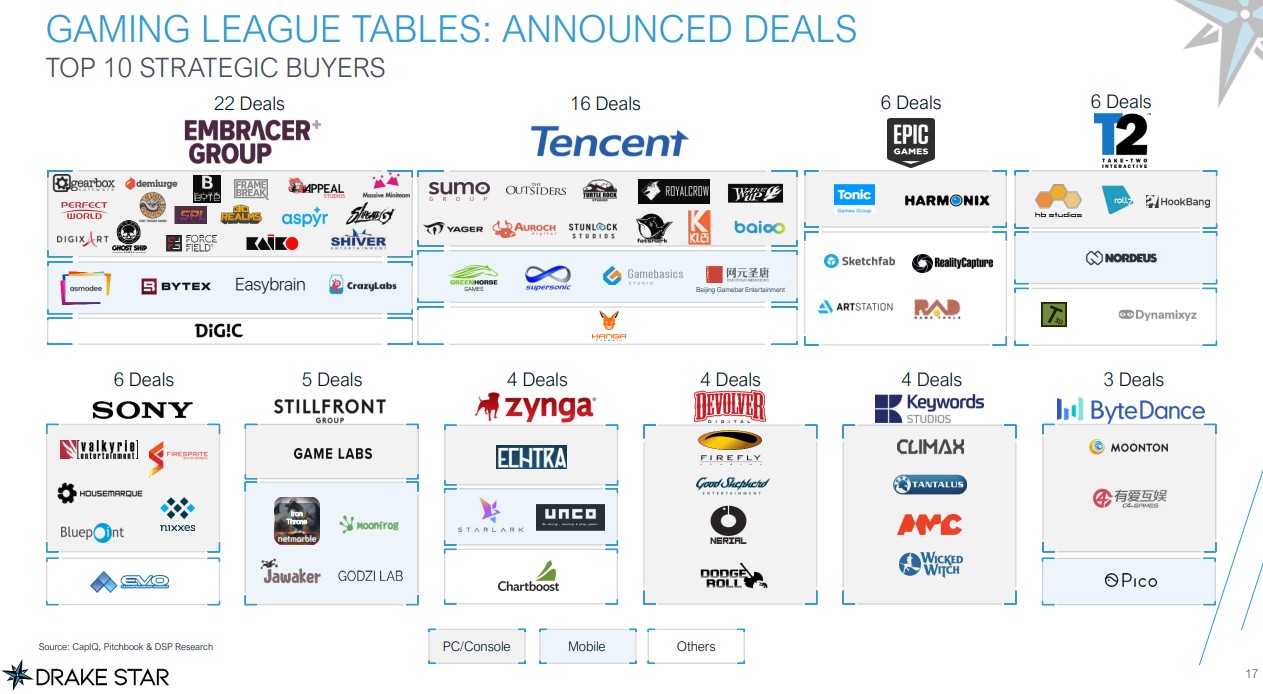 Among the hot categories, gaming companies with blockchains and NFTs raised $3.5 billion last year. Animoca Brands, A16z, Coatue and SoftBank are active investors in this category. Forte, Sorare, and Dapper Labs also raised large rounds in this category.
On the public markets, 2021 is arguably a bumper year for initial public offerings (IPOs), direct listings and special purpose acquisitions (SARS), with key players including Roblox, Krafton, Unity, IronSource, AppLovin, Playtika, Playstudios , Nexters, Skillz, Cherry Group and Devolver.
By the fourth quarter of 2021, the blockchain and NFT sectors continued to be hot. The companies raised $1.8 billion in the fourth quarter, with Forte, Axie Infinity, Mythical Games, Animoca Brands and Sandbox all raising at impressive valuations.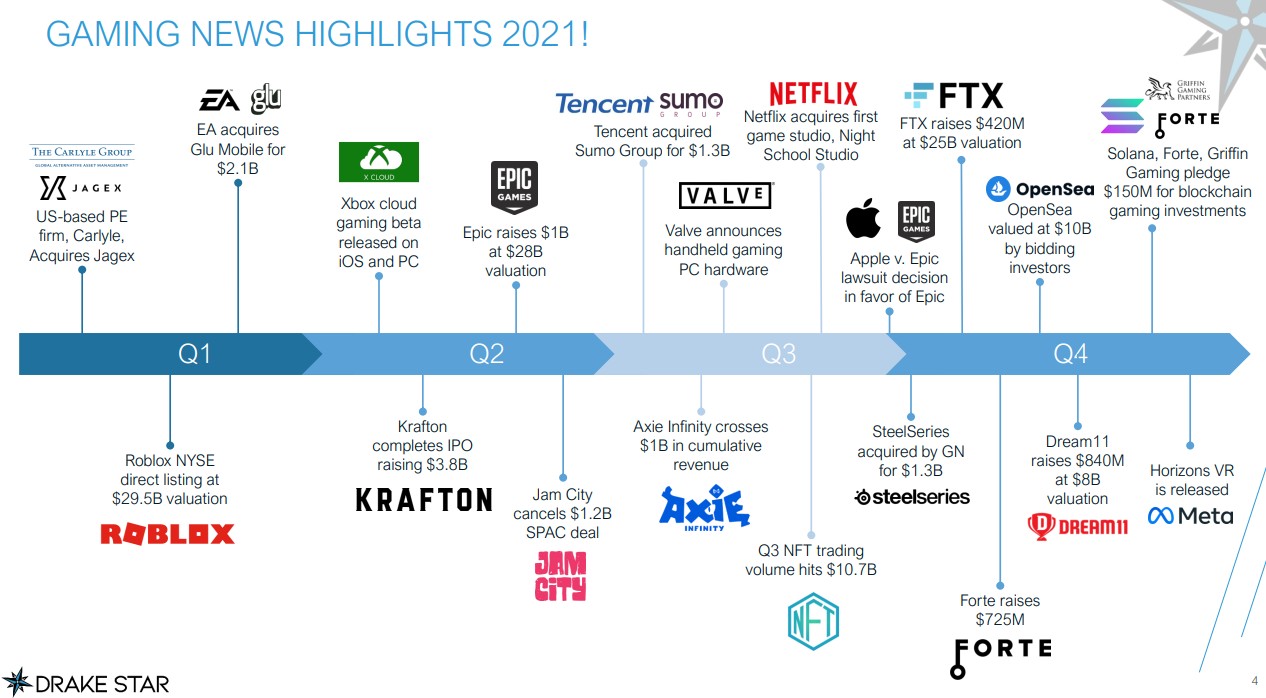 Private gaming companies raised a record $4.1 billion from venture capital firms and entrepreneurs in 201 financing deals last year, the largest amount ever raised by a private gaming company in a single quarter.
The M&A boom continued in the fourth quarter of 2021, with deals valued at $6.7 billion. The most notable deals include Embracer's acquisition of Asmodee, GN's acquisition of SteelSeries, and Scopely's acquisition of GSN Games. Although the number of deals rose from 58 to 68 in the fourth quarter, deal value declined slightly and the IPO and SPAC markets also slowed. There are still many IPO candidates, such as Epic Games or Discord, Metzger said.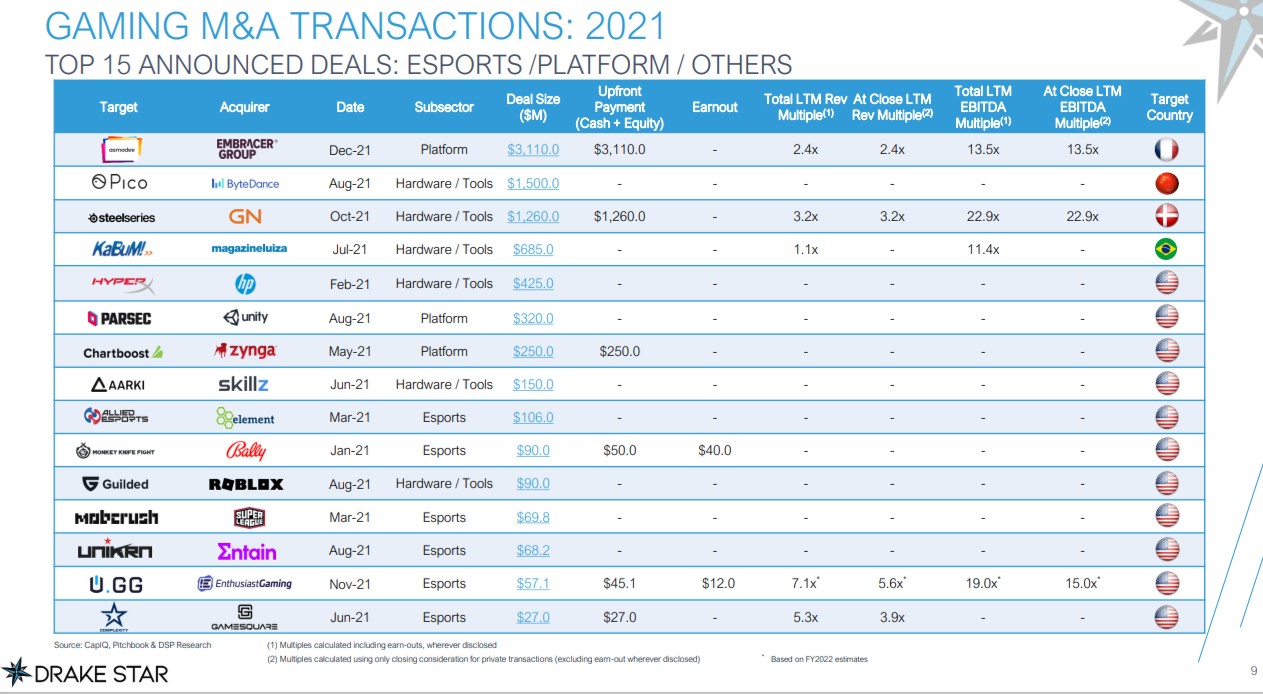 Blockchain transactions accelerated in the fourth quarter, but Metzger also said that in general, the market valuation of the blockchain market is generally frothy, and the share prices of some large companies have also been compressed in recent months.
In addition, Drake Star Partners tracked more than 1,000 gaming companies in the U.S., Europe and Asia and found that after the overhyped 2016, the future of AR and VR companies will look brighter.
This Article is curated from Source and we only provide the English version of the Story.