【GameLook Zhuangao, may not be reproduced without authorization】
GameLook Report/2021 has passed, facing the new 2022, where will the global game industry go?
Recently, Google Games and Newzoo released a "beyond 2021" report to try to answer this question. The report includes extensive market and consumer research in 16 countries across four regions of the world, spanning the past 18 months.
Overview of the overall situation of the global game market
The report shows that the global game market revenue in 2020 will reach 177.8 billion US dollars, a year-on-year increase of 23.1%, the highest in the past ten years. By 2021, however, the global market is expected to experience its first decline in history. The real breakthrough point may come in 2023, when the global game market will hit the $200 billion threshold and reach $218.7 billion in 2024.
By the end of 2021, nearly 3 billion players worldwide spent a total of $175.8 billion on games. Among them, 20% of the revenue growth is contributed by new players who joined the game in 2020 and later, while the remaining 80% is composed of old players who have played the game before 2020.
It is worth mentioning that Asia ranks first in the world with 1.615 billion players, accounting for 54%. In the indicator of new player growth, the Middle East and Africa region ranked first in the world with a growth rate of 10.1%, which was 3.9% higher than the second place in Latin America.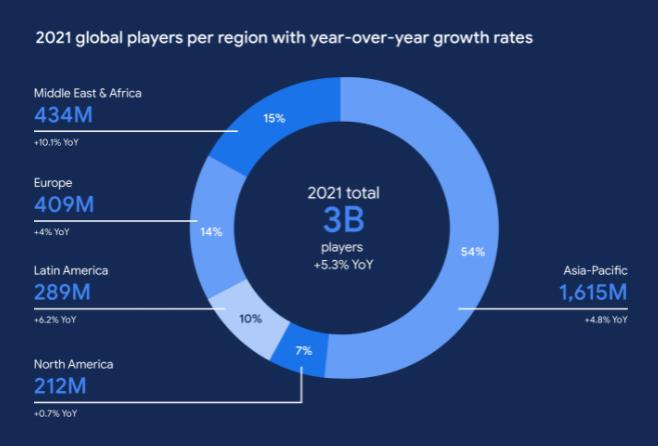 From the perspective of growth factors, most of the growth in the past year has come from the increase in the idle time of old players. The data shows that 30% of old gamers play the same number of games as before, while 42% of old gamers play more games than before.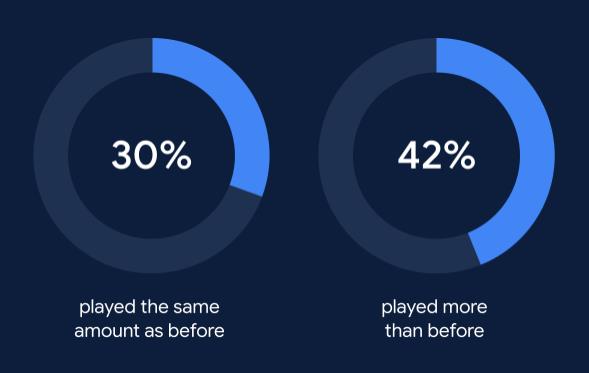 Among new players, the data shows that 173 million new or returning players participated in the game in 2020. Among them, 53% of new or returning players are women. Overall, 73% of new or returning players are more willing to spend money in games than ever before.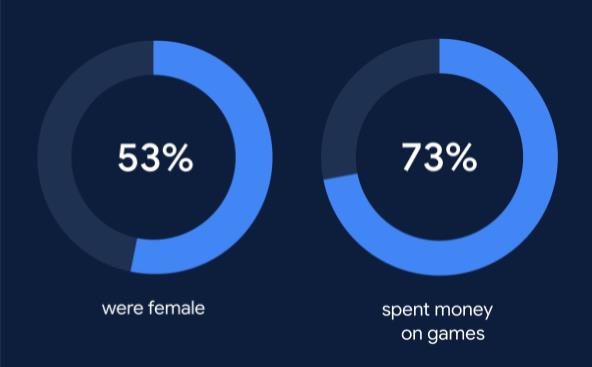 Research shows that topics that have sparked discussions in the gaming world in the past will continue to play a key role in shaping the global gaming landscape beyond 2021. In terms of influence, this can be divided into three categories: new trends, accelerating trends, and temporary setbacks.
The new trends include that games will be used as social platforms and application platforms of the metaverse, and the subscription system will be applied on a large scale; and among the accelerated development trends, three awards for social, cloud technology and decentralized platforms will be awarded during the epidemic in the new museum. has been significantly developed. At the same time, the epidemic has also reduced the market revenue of many 3APC/console games as the core, and the development progress of many games has also been delayed.

In terms of continued market development, although 26% of new/returning players and 18% of old players said they would play less games after the pandemic, 65%-70% of new players and returning players plan to play the same game as in the past or higher level to participate in the game. In addition, more than 30% of players expressed their desire to further increase their consumption on live broadcast and e-sports.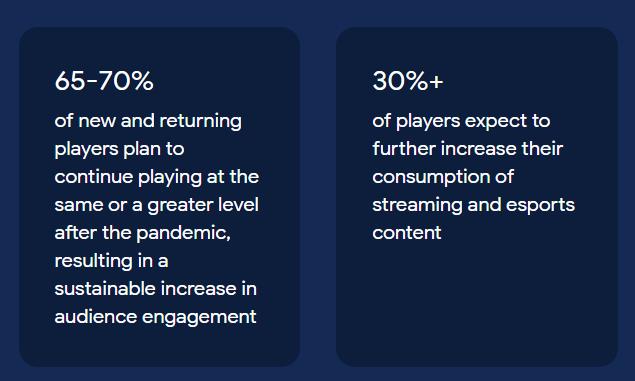 Latin America: Live Streaming and Esports Have Huge Potential
From 2015 to 2024, Latin America is one of the fastest growing regions in the world for gaming audiences. Although the region will only account for 4% of global gaming market revenue in 2021, it ranks second globally in terms of player spending growth (2015-2024).
In 2021, 289.3 million Latin American gamers will spend a total of $7.2 billion on games, with mobile games accounting for 48%, console games accounting for 27%, and PC games accounting for 25%.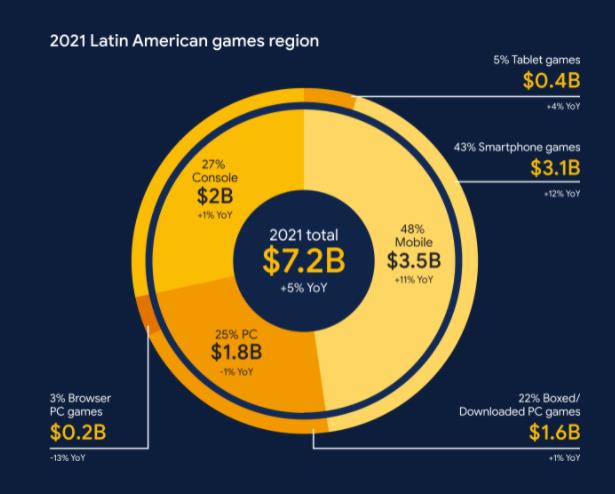 The average age of gamers in Latin America is 34, the youngest among the four major global regions. Compared to more established regions such as North America, it has a higher percentage of new or returning players, both accounting for 21% of total players.

Mobile gaming has created new trends in Latin America, such as live streaming and esports. Data shows that Latin American gamers have set new records for watching live broadcasts and esports. It is expected that by 2024, the number of viewers watching live broadcasts in Latin America will increase to 122.4 million, and e-sports enthusiasts will add 25.3 million people.

Despite a significant uptick in gamers in Latin America over the past 18 months, gamer growth across all platforms is expected to moderate in the second half of 2021 and beyond, with a projected growth of only 8% between 2020 and 2021. Considering the low level of player payment in this region, game parties should explore more effective ways to increase their audience and revenue.

Interestingly, from 2020 to 2021, the number of players paying to use cloud gaming services has grown substantially six-fold to 1.2 million players, contributing $37.6 million in total revenue.

North America: Focus on player engagement and innovative growth in the mobile gaming market
As a mature market, North America's revenue performance has reached a very high level. The data shows that as of 2021, 212.1 million gamers in North America will spend a total of $42.6 billion on games, with consoles being the main platform. Like most regions, the mobile gaming market in North America also saw huge growth, with revenue rising to 38% to $16.1 billion.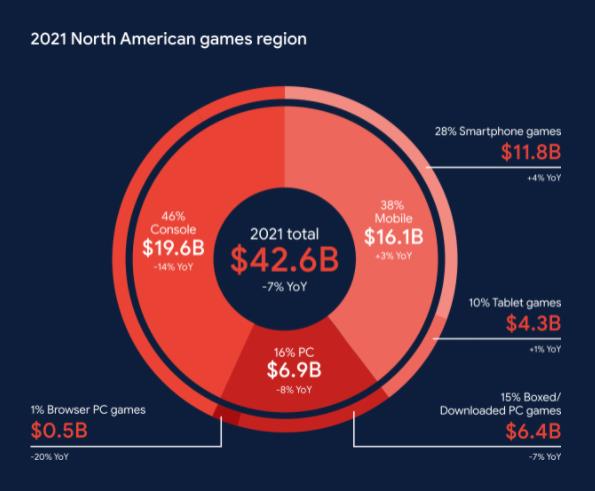 The study of North American gamers found that 83% of respondents had already dabbled in gaming by 2020, the largest percentage of any region surveyed. Another 13% are returning players and the remaining 4% are new players. The age range of players with the largest proportion is over 45 years old.

Over the past 18 months, gaming has become the second most popular form of digital social networking in 2020, after traditional social media. At the same time, the number of players meeting in the game or through game-related platforms is no less than the number of people using video conferencing software.
In mature regions like North America, large-scale social and metaverse factors are rapidly normalizing. The opportunity lies in how gaming can be further integrated with social media and streaming platforms.
With the majority of North American gamers already on mobile, opportunities for player growth are limited, but revenue will continue to grow. The total number of mobile players in North America is expected to grow at a CAGR of 0.8% to 199 million by 2024, and revenue will grow at a compound annual growth rate (CAGR) of 6.4%, enabling developers to experiment with novel monetization strategies , explore cross-play, and expand beyond mobile audiences.

In terms of live broadcasts, North American live broadcast audiences will grow to 91.5 million in 2021, accounting for nearly 13% of global audiences. In 2020, consumption of game-related content grew by just over 40% and is expected to grow by another 39% in the future. With the increasing popularity of mobile games and the promotion of live broadcast by social media, the live broadcast and e-sports market is expected to continue to soar in the future.

Europe, Middle East and Africa (EMEA): Markets vary widely and opportunities vary
EMEA is the most diverse gaming region in the world, with some markets showing strong growth potential while others have extremely high average revenue per user.
Europe alone accounts for four of the top ten game markets in the world (Germany, UK, France and Italy), while the Middle East includes some of the most promising markets. As for Africa, gaming has yet to achieve mainstream status here.
In 2021, EMEA's 842.9 million players are expected to spend $37.8 billion on games. As of 2021, console games are still the largest market segment, accounting for 45%, with revenue of $17.2 billion, but mobile games ranked first with a growth rate of 4%.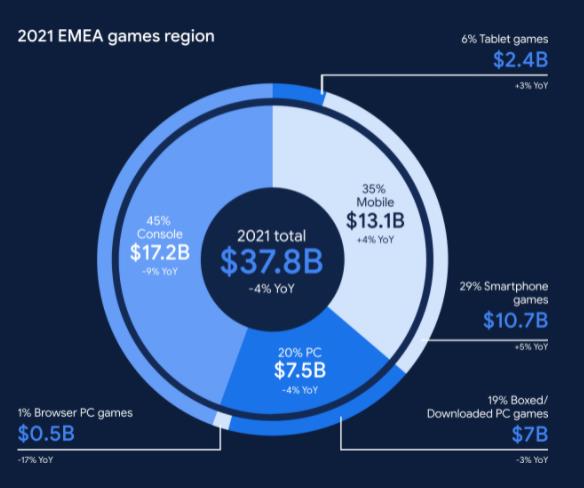 EMEA players tend to play less time than their peers in other regions, averaging 2.3 hours less per week than North American players, 3.2 hours less than Latin American players, and five hours less than Asian players.

Even though many EMEA players expect their activity in the game to decline after 2021, the data shows that their game time is still higher than the level before 2020. More importantly, flexible spending habits mean that the chances of future revenue generation in the EMEA region are still high. Even if players do not want to invest too much time in the game, many people are still willing to spend money on the game.

The EMEA region has rich market diversity. For example, Western Europe is dominated by consoles, Eastern Europe is dominated by PC, and the market in developing countries is dominated by mobile games.

Research shows that European players spend less total time gaming than their peers in the Middle East and Africa, and are more likely to drop further post-pandemic. However, their interest in live game streaming and esports is more in line with other regions, with major European markets such as Poland and the UK expecting consumption to grow by 30% and 25% respectively compared to 2020.

Asia Pacific: The largest gaming market, the most important standard setter
The importance of the Asia-Pacific region is already evident. As the most important growth engine of the global game industry, the Asia-Pacific region has rich regional diversity and a fast-growing user market, and various innovations have also taken root here.
The data shows that the Asia-Pacific region has 55% of the world's players, and the three most important consumer spending markets (mainland China, Japan and South Korea). Almost all of the 1.62 billion gamers in Asia Pacific play games on mobile devices. Asia Pacific players will spend $57.9 billion on mobile games in 2021, accounting for two-thirds of all consumer spending in the region.
Driven by younger audiences in growth markets such as Vietnam and India, players in the Asia-Pacific region have the highest average weekly game time at 17.4 hours, and have a relatively lower average age of players at 34.3, the study found.

For many years, games in the Asia-Pacific market have been dominated by multiplayer social, which has also set a global standard for the social function of global games. This integration of gaming and social networking takes place at the business and operational levels, and companies such as Tencent have been bridging the gap between gaming and social networking over the years, allowing the market to recognize the potential of social networking in the region. The Asia-Pacific region may be more suitable than other regions for the primordial metaverse to take root.

While console gaming has yet to gain traction in the Asia Pacific region, market indicators point to significant growth in console players in the region due to the mobile-friendly features of the Nintendo Switch and the launch of Sony and Microsoft's PlayStation 5 and Xbox one consoles in mainland China, 2021 A 21% increase is still expected for 2019 and beyond.

Mobile gaming activity in Asia Pacific has continued to increase over the past 18 months. While 97% of gamers in Asia Pacific already play on mobile devices, engagement per player continues to grow. Since 2020, player activity in mobile games in the region has increased by 46%, and is expected to continue to grow by 19%.
In addition, mobile games also account for a large portion of consumer spending in the region, which has led to intense competition and market-based innovation among game makers. From in-game items to battle passes, mobile gamers in the Asia-Pacific region spend more of their money on in-game consumption than players in other regions.

This Article is curated from Source and we only provide the English version of the Story.