[GameLook Zhuangao, unauthorized reprint is not allowed]
GameLook reports / In China and even the entire Asian market, RPG is a very important category. According to a recent report released by Newzoo, RPG mobile games will reach US$18.5 billion in 2020, accounting for more than 20% of the total global mobile game revenue in 2020, becoming the largest mobile game category.
It is worth noting that as the mobile game market as a whole has entered the stock stage, IP adaptation has become the choice of more and more publishers and developers, especially in the RPG category. The report shows that more than half of the Asian RPG head mobile games are adapted products, and their IPs come from movies, novels, animations or mature game IPs.
From the perspective of monetization, in-app purchases are still the main source of revenue for RPGs, but more and more developers are exploring mixed monetization models.
In terms of market distribution, the three major markets of China, Japan and South Korea account for more than 70% of the total global RPG mobile game revenue in 2020, and most of the Asian players are male users.
Here's the full report compiled by GameLook:
Like the name, RPG games are games that allow players to role-play in a virtual world. The earliest popular RPGs were board games, such as Dungeons & Dragons (D&D in 1974) and Travller (1977). Subsequently, RPG games began to appear on the PC and console platforms, with similar gameplay to the head products of the board game platform, including the action RPG series "The Legend of Zelda (1986)" and the JRPG "Dragon Quest (1986)" and the Final Fantasy (1987) series.
Most RPG games are story driven, with unique character storylines. With the development of technology, more and more RPG games appear on mobile game devices.
Since the world view setting is very important in RPG games, most of the head RPG mobile games are based on previously successful IP or game series. (released in 2015) "FGO" is based on the Japanese interactive story PC/console game "Fate/Stay Night", and has become the highest-grossing RPG mobile game in the Japanese market in 2020. The series has also spawned manga, anime and novel adaptations. At the same time, "Marvel Strike Force" leveraged Marvel's IP to become the top RPG mobile game in the Western market.
In recent years, more and more high-fidelity RPGs have entered the mobile platform, especially in the eastern market, with complex gameplay and advanced 3D graphics, which has accelerated the trend of cross-platform gameplay. South Korean game developer and publisher NCSoft has exclusively released the Purple platform to support cross-platform services for its MMORPG games. Other newly released mobile RPG games, such as Genshin Impact in 2020 and Odin: Valhalla Rising in 2021, will be cross-platform on PC or console.
RPG is the highest-earning category on mobile game platforms, with East Asia contributing 72% of the global total. RPG games account for more than 20% of the total global mobile game revenue in 2020, and it is worth noting that this category is more popular in Eastern markets than in the West.
Many popular RPG games are based on successful media IPs or game series with complete worldviews. IP-adapted RPG games have gained a well-known worldview from existing IPs, bringing very considerable natural new traffic to the game. In the key markets of the East and West, about 50% of the top RPGs are IP games.
Although RPG games are usually only in-app purchases, the hybrid monetization model of the category is also increasing. Some RPG games now add IAA (in-game advertising) options on the basis of in-app purchases. Among various ad formats, rewarded video is the most commonly used form of RPG mobile games.
RPG game market overview: China, Japan and South Korea monopolize more than 70% of the market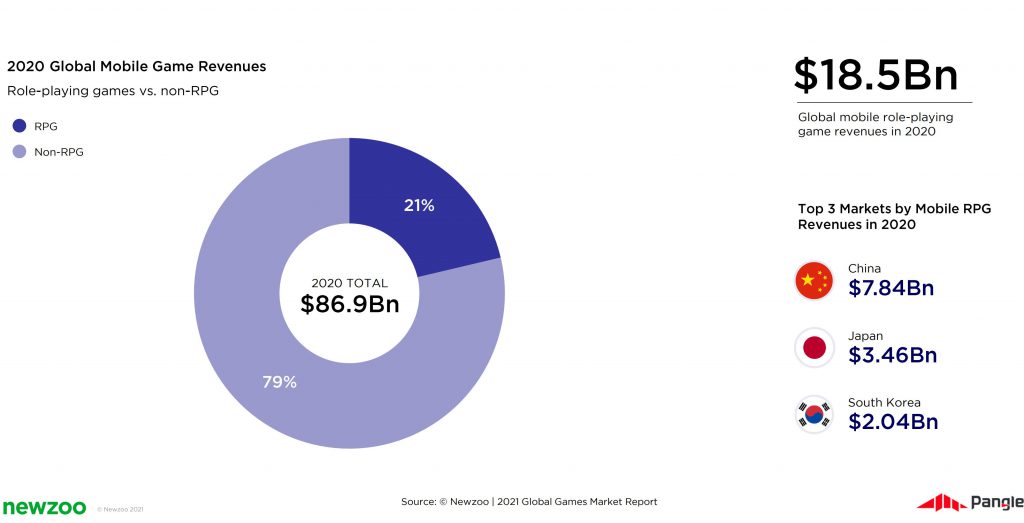 The three countries of East Asia, China, Japan and South Korea, account for more than 70% of the total global RPG mobile game revenue in 2020. Mobile RPG revenue in China was $7.84 billion, more than Japan ($3.46 billion) and South Korea ($2.04 billion) combined.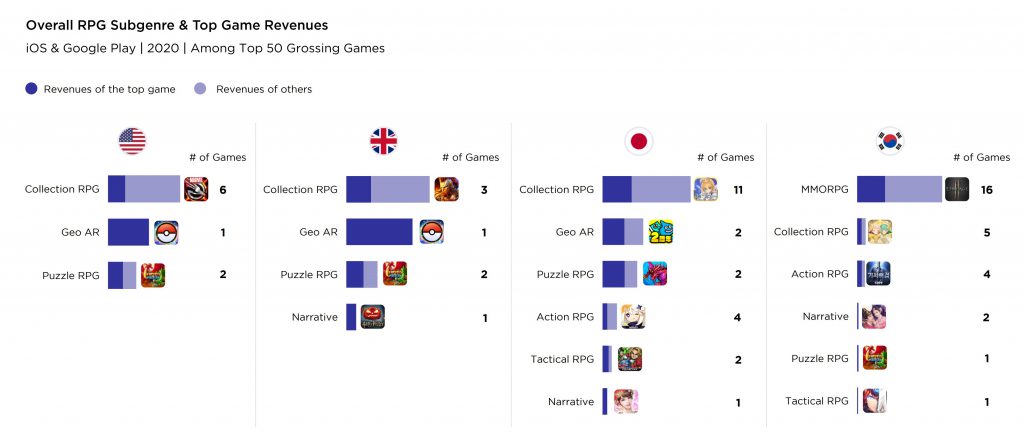 1. Compared with the European and American markets, RPGs are more influential in the eastern market.
For example, in the UK and US markets, there are no more than 10 RPG mobile games in the top 50 best-selling lists, while in Japan and South Korea, RPGs occupy at least half of the top 50.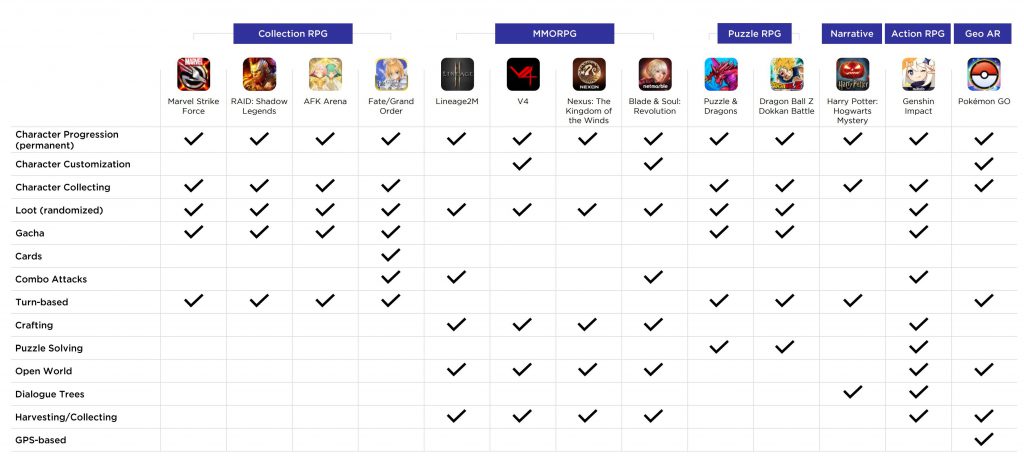 In comparison, the head RPGs in the eastern market tend to have more functions and deeper gameplay. In addition to the common role-related mechanisms, resources and gashapons in RPG games, they bring more opportunities for monetization. .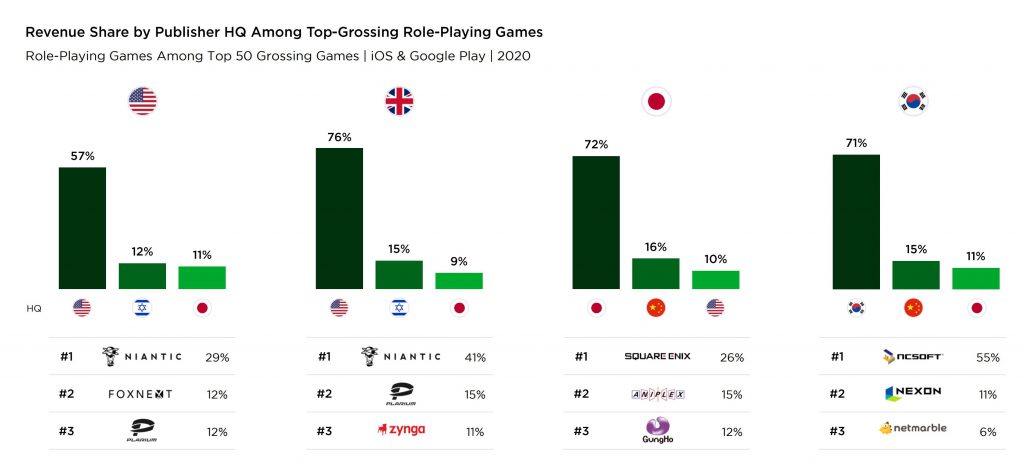 Another noteworthy phenomenon is that the publishers with the largest RPG market share are often from local or have a similar background to the local market.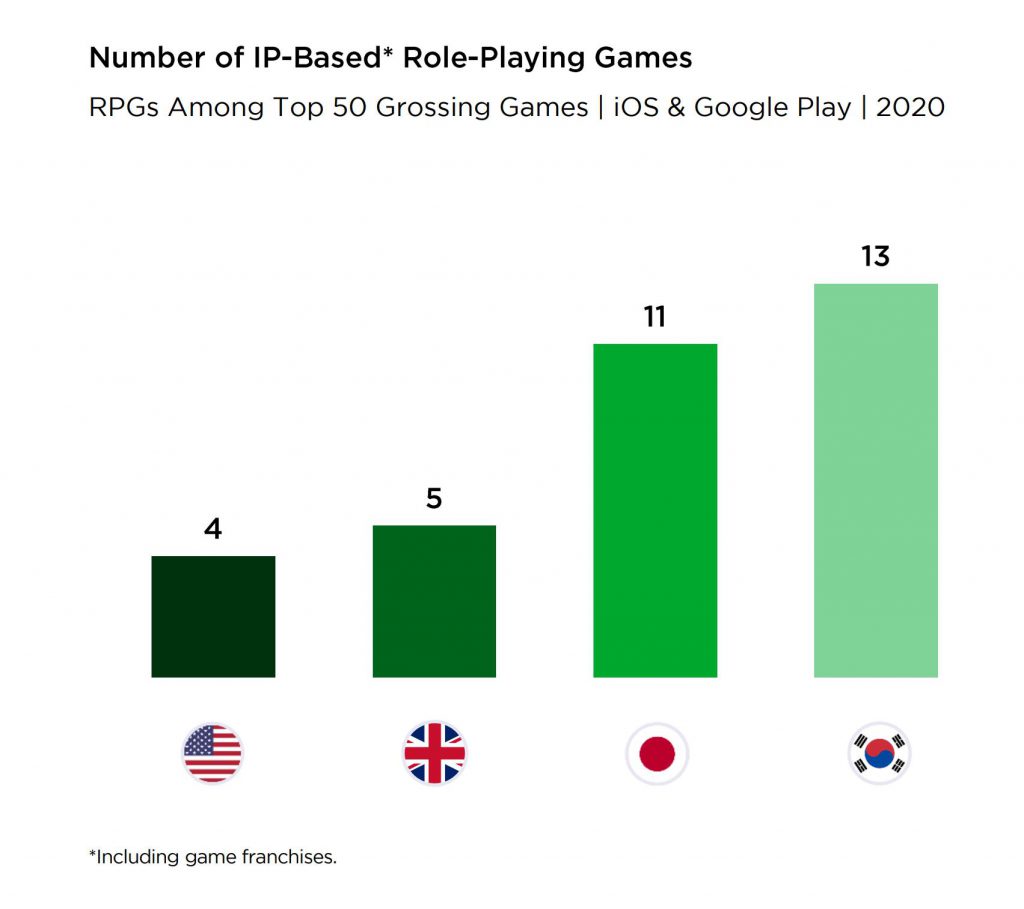 2. IP games attract more natural installations, and RPG games without IP tend to be promoted through creative advertising.
In terms of purchase volume, many popular RPG games are based on film, novel or anime IP, such as "Dragon Ball Z Fight", "Star Wars: Galactic Heroes" and "Marvel Commando", etc. These RPG games are all from Existing IPs have acquired a well-known world view, which has promoted the natural new increment of games.
At the same time, IP user acquisition strategies can also attract existing games on other platforms. Korean game developers say that many PC games have been ported to the mobile game platform. In fact, the top two games in South Korea in 2020 are based on the very popular local PC game "Paradise" IP. Since players are already familiar with the IP and core gameplay, it is easier for them to accept complex MMORPGs on mobile game platforms.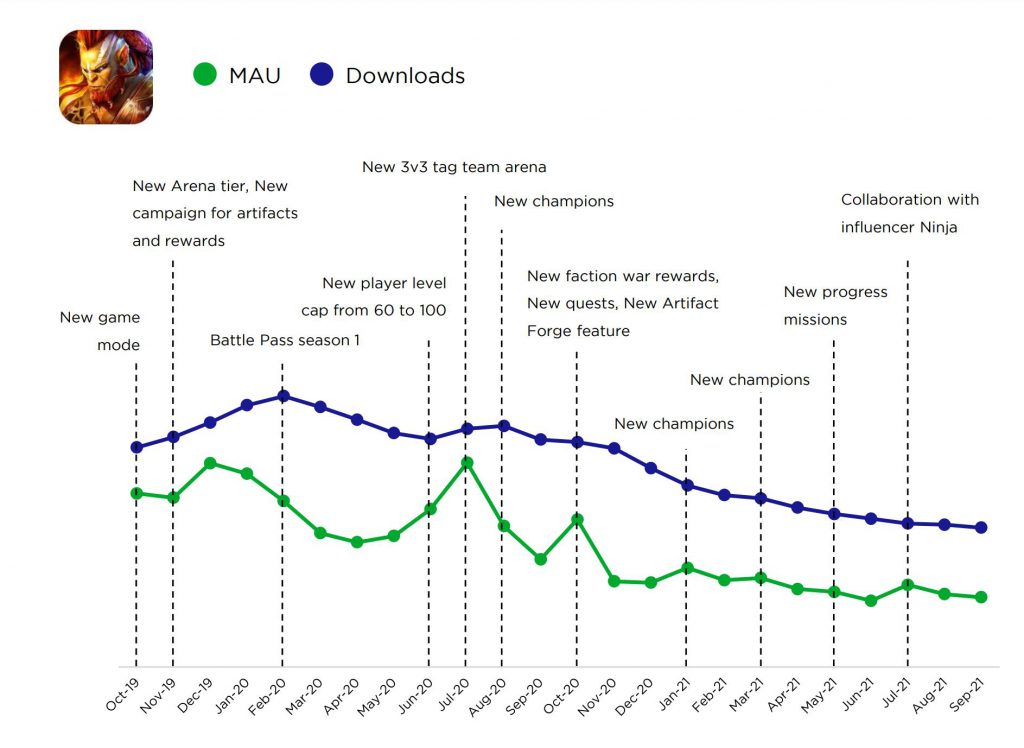 For RPG games without IP, publishers tend to promote them through regional influencers and creative advertisements. For example, the collection RPG mobile game "Raid: Shadow Legend", which is within the top 20 RPG revenue in the United States and the United Kingdom, makes full use of its high-quality creative advertisements and conducts large-scale promotion activities through KOLs.
3. Regular updates and online activities to maintain player interest:
Linkage can allow casual RPGs to retain old users, but it can also be used as an effective means of promotion. According to Newzoo's consumer insights tool, one of the main reasons players choose to stay is to explore the game world and story. To fully meet this demand, RPG publishers need to frequently update their games with new content.
However, today's RPG games are becoming more and more complex, and maintaining a regular update schedule can be very challenging. Therefore, many RPG games have added in-depth game content, such as character collection/level-up, weapon creation/enhancement, talents, and pet systems, etc. Players who focus on meta mechanics will devote most of their time to character development.
Social participation through guilds or PVP systems is also widely used in MMORPG games, mainly to maintain player engagement. South Korea's top RPG "Paradise 2M" in 2020 has a guild gameplay and adds a battle area to the PVP mode.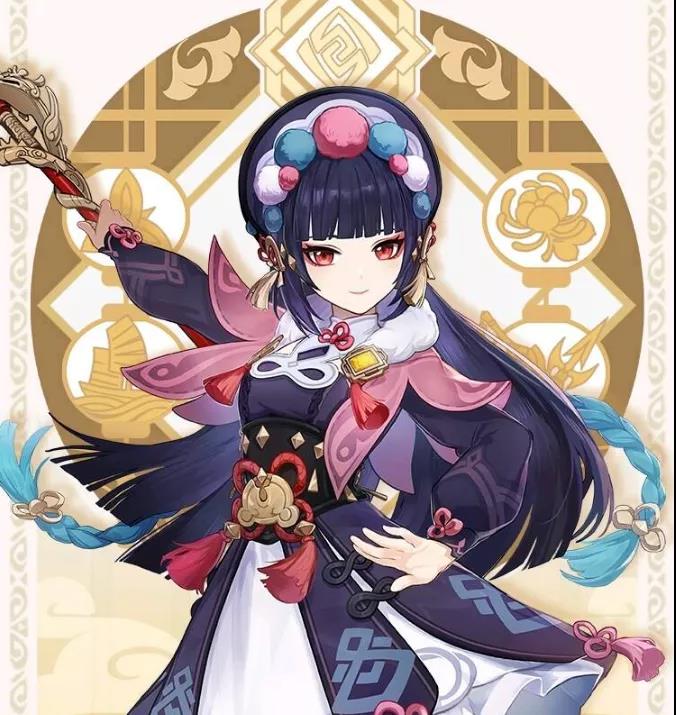 In recent years, more and more RPG games have focused on online operations through collections and events. "Genshin Impact" keeps players interested through new events and a limited-time gashapon pool, and "Raid: Legend of Shadows" introduces well-known anchor Ninja as a limited-edition character in the game. Even so, JRPG still focuses on plot and character design. For example, "FGO" makes full use of the successful IP attributes and the anime UGC community to retain players.
4. In-app purchases are still the main source of income for RPGs, because in-depth game content creates more opportunities for monetization.
Since RPG games usually have in-depth content, in-app purchases have become the most widely used monetization method in this category. Among these in-app purchase functions, the gashapon mechanism is the most effective one for players to consume, covering game characters, weapons, pets and other in-game resources. Generally speaking, these gashapon systems are usually a specific resource pool with a specific refresh time, and have a bottom-up mechanism. After a certain number of gashapons, players will definitely get special items.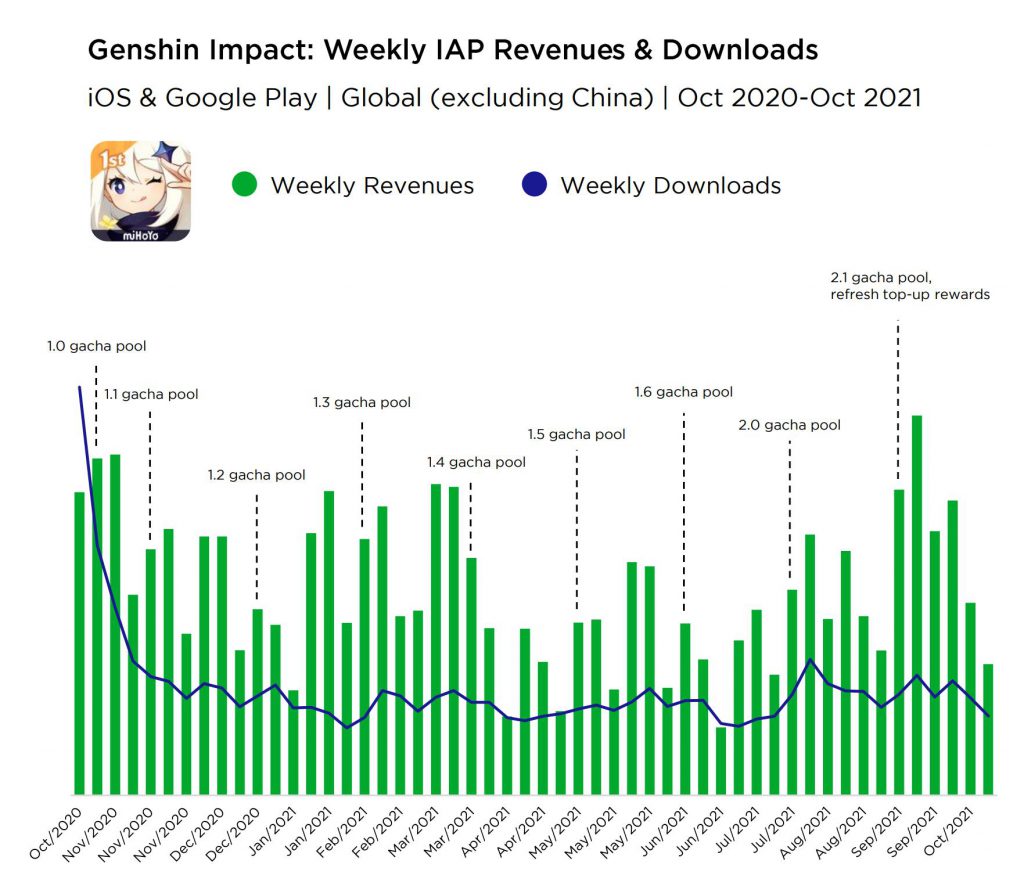 As shown in the case of "Genshin Impact", after almost every new Gacha Pool is refreshed, the income from in-app purchases will increase accordingly.
Many RPG games are now adding subscription or Battle Pass features, which not only incentivize players to pay, but also maintain active gameplay and social engagement. In addition, package promotions are often designed to provide players with additional resources for character creation or upgrades. Another common monetization opportunity is limited-time energy, where players must pay for additional energy in order to continue playing or participate in a specific event.
Compared with casual collection RPGs, MMORPGs have more PVP features, which are used to motivate players to pay to improve their character progress. For example, in "Paradise 2M", if you want to strengthen the weapon 100% successfully, the player must pay, otherwise, the level of the previous enhancement may be lowered.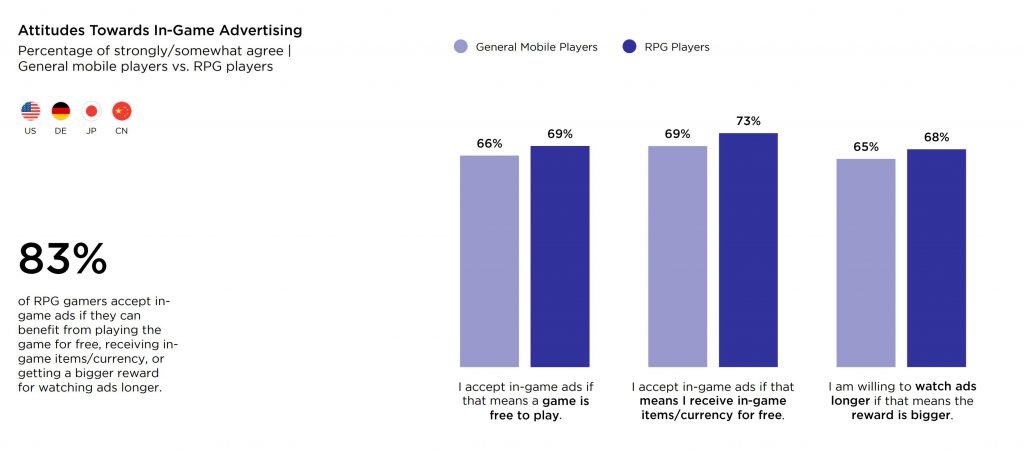 5. RPG players do not reject in-game advertisements.
Although RPG games are usually focused on in-app purchases, there is still an opportunity to include in-game advertising. The survey results show that 83% of RPG players accept in-game advertising if they can play games for free, earn in-game items and in-game currency, or watch longer ads for greater rewards.
RPG games are gradually moving towards hybrid monetization: Although in-game advertising is less common in RPG games than in-app purchases, it is gaining popularity as a way to attract non-paying players. Since RPG players like immersive gaming experiences, intrusive ad formats, such as interstitial ads and banner ads, are rarely seen in RPG games. Instead, rewarded video ads and native ads are more common. In native advertising, branded content appears seamlessly in the in-game world, such as Google's collaboration with Genshin Impact.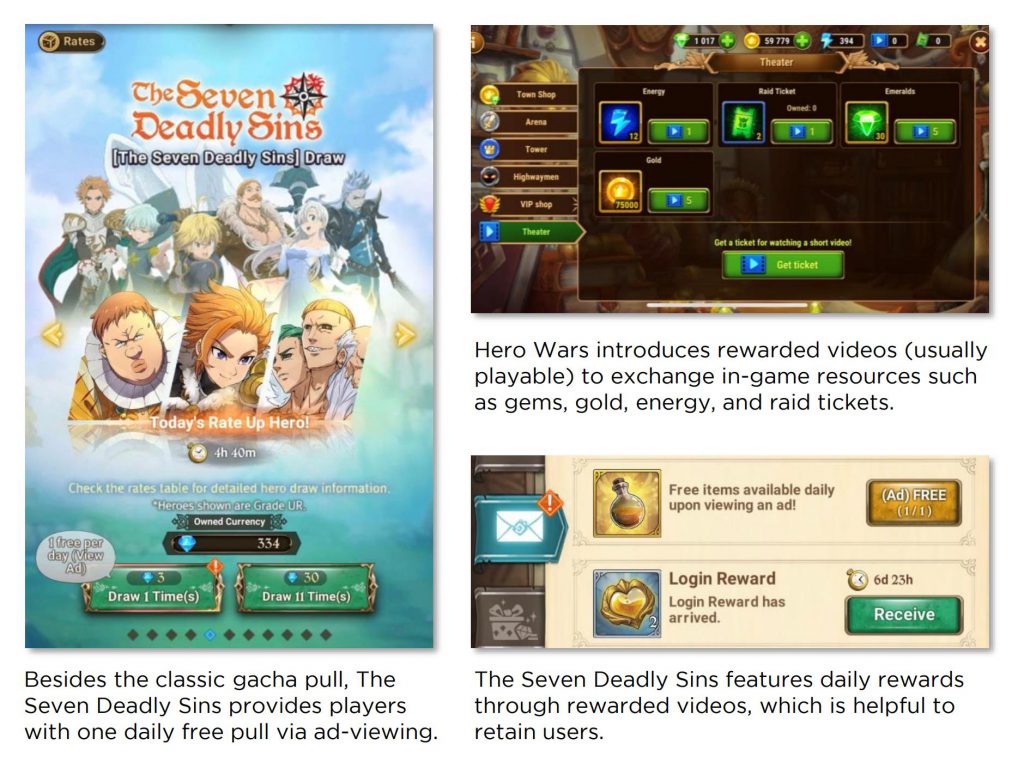 In general, rewarded videos are becoming a trend in mobile games, and the RPG category is no exception. In popular RPGs like Netmarble's The Seven Deadly Sins and Nexter's War of Heroes, players can watch ads for in-game items and even get free gashapons. To minimize ad distraction, players are often free to choose when and whether to watch an ad.
It's worth noting that since RPG games are still an in-app purchase-dominated category, developers and publishers often limit the number of ads players watch per day to ensure that in-app purchases are not affected. Nonetheless, the market is seeing more and more RPG game developers embracing the hybrid monetization model, and we expect more non-disruptive and innovative ad formats in this space, such as native ads and brand injection.
RPG games in key markets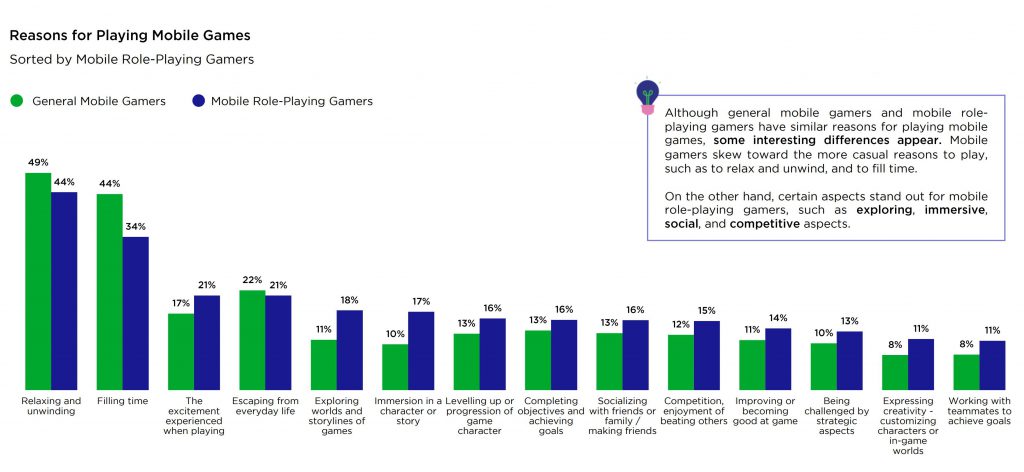 1. Relaxation and decompression are the main reasons for playing mobile games.
In addition to leisure reasons, reasons such as exploration and immersion are also reasons why players like RPG mobile games.
Although overall mobile game players and RPG mobile game players have similar reasons for experiencing games, it is more interesting that RPG players are lower than the overall players in terms of relaxation and passing time. In other aspects, RPG mobile game players are outstanding, such as exploration, Immersion, social and competitive factors.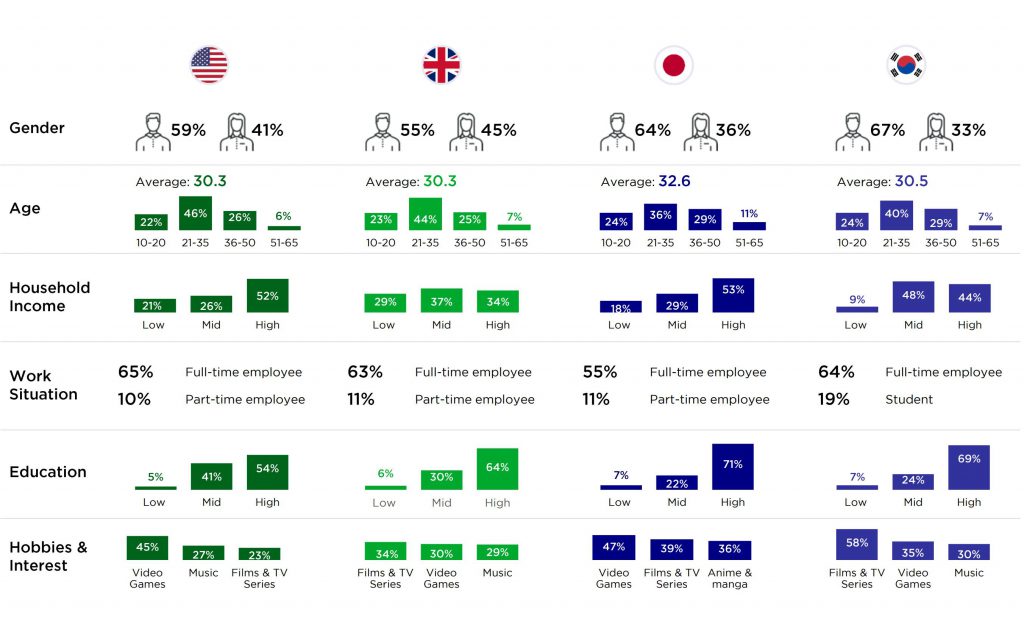 2. RPG players are more popular with male players
In the four key markets of the United States, Britain, Japan and South Korea, the user base of mobile game RPG players is similar. Most of them are male, and they are full-time employees. The owners have a high level of income, and gaming is one of their favorite hobbies and interests. However, one of the most critical differences between Eastern and Western RPG players is that the gender ratio of European and American RPG mobile game players is slightly balanced, while the vast majority of Asian RPG players are male. In addition, South Korea is particularly prominent, where nearly one-fifth of RPG mobile game players are students.
This Article is curated from Source and we only provide the English version of the Story.